G-Suite Transition Timeline and Current Price Hike
Over the last decade, G Suite has got bigger and now it has stated about a new pricing plan effective from 2nd April, 2019.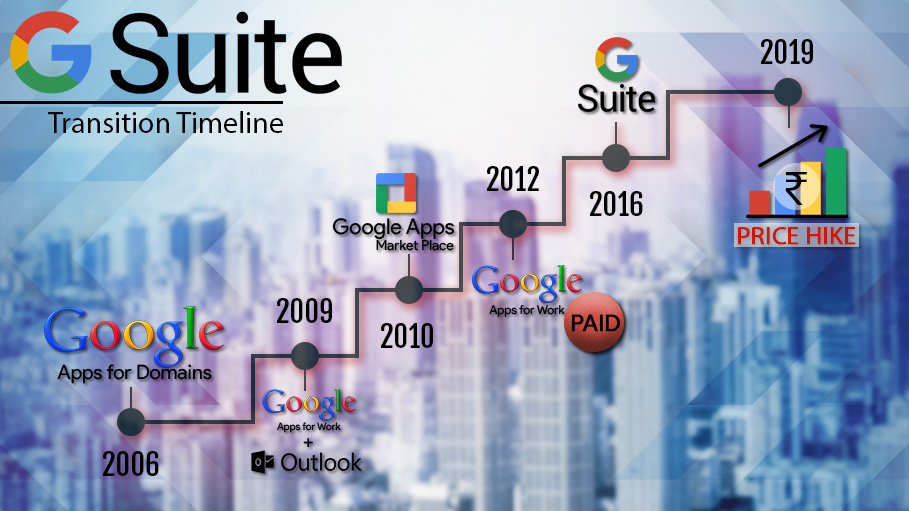 Google launched the "Google Apps for Your Domain", on August 28, 2006, which became a brand of cloud computing, productivity and collaborative features.
Unlike the G Suite Standard version, G Suite users do not get to see advertisements while using the services. G Suite accounts are not being used for advertisement purposes. Moreover, G Suite Admins can calibrate security and privacy settings.
Google started testing the "Gmail for Your Domain" from February 10, 2006 and on February 22, 2007, it introduced the "Google Apps Premier Edition", which was different from the Legacy version, by offering more storage (10 GB per user), 99.9% uptime for Gmail, and 24/7 phone support. The price offered was $50 per user account per year.
Additionally, amplifications came, on June 25, 2007, when Google added varied features to Google Apps, inclusive of, mail migration from external IMAP servers, shared directory, an ocular & revamped Google Docs and Google Sheets, and increased the size of the Gmail in terms of attachment. Google Sites was introduced on February 28, 2008. Google launched Google Apps Sync for Microsoft Outlook on June 9, 2009, that is a plugin which allows customers to sync their emails, calendar, and contacts between Outlook and Google Apps. Google also introduced the Google Apps Marketplace, on March 9, 2010, that is an online store for third-party business applications that can be integrated with Google Apps.
Almost five years after the launch of Google Apps for Work, on April 26, 2011, Google stated that organizations with more than 10 users will not be eligible for the Legacy version of Google Apps. They will have to sign up for the paid version, which was renamed as Google Apps for Business.
A flexible billing plan was also introduced, that gave customers the alternative of paying $5 per user per month with no contractual agreement. On March 28, 2012, Google announced that the Legacy version of Google Apps will no longer be available to new customers.
On May 13, 2013, Google fused the storage between Drive and Gmail, and the new storage was 30GB that is shared across the apps provided in the package. On September 29, 2016, Google Apps for Work was rebranded and came to be known as G Suite.
Over the last decade, G Suite has got bigger and has come up with more tools, functions and values to help the businesses to transmute the way they work. The only attribute which never changed is the price.
To reflect this value in its offering, Google announced two incremental list price updates. The increases will apply globally with local market adjustments for a few regions. Starting on April 2, 2019, G Suite Basic Edition will increase by $1 (from $5 to $6 per user/month) and G Suite Business Edition will increase by $2 (from $10 to $12 per user/month), or the equivalent local currency where applicable. G Suite Enterprise Edition pricings will not change. For existing G Suite Basic or Business edition customers on the Flexible Plan, the new list prices will go into effect from April 2, 2019. The new prices for customers on the Annual Plan will go into effect the first time their plan renews on or after April 2, 2019.
Current contracts or any renewal events for customers on the Annual Plan prior to April 2, 2019, will not be impacted.
Get our hottest stories delivered to your inbox.
Sign up for Scrabbl Newsletters to get personalized updates on top stories and viral hits.