G Suite Enterprise, the Ultimate Solution to Secure Mail & Drive Data
G Suite not only provides mail platform to communicate, but also Chat, Audio and Video conferencing facilities through Hangout.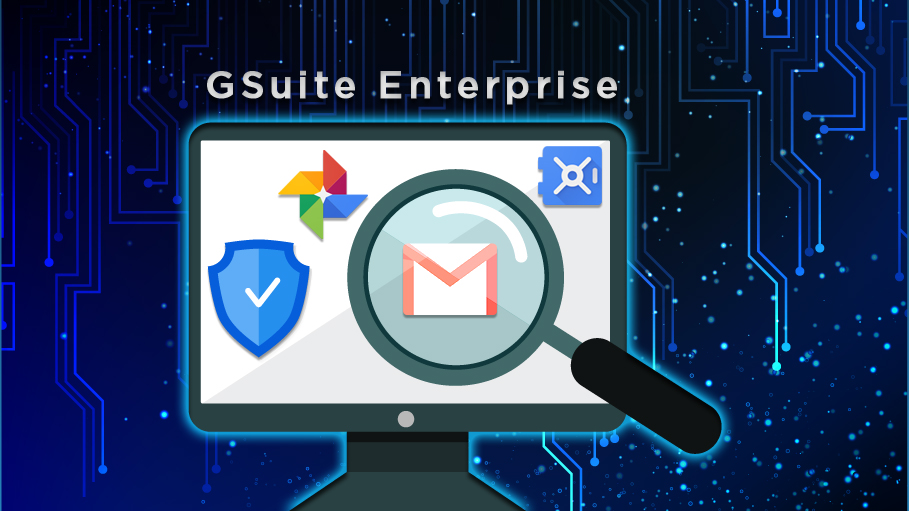 There are several mailing platforms available in the market. Few of the mail-servers exist on premise but mostly they are cloud based these days. This age has a growing demand for mobile compatibility, high security & remotely manageable mailing platform. Google has the solution, which is popularly known as G Suite. It is accessible from Windows/Android/Apple Platforms through App and Browser interfaces. G Suite not only provides mail platform to communicate, but also Chat, Audio and Video conferencing facilities through Hangout.
Multiple Account management: Multiple accounts can be managed by a single user through multiple user & domain aliases. G Suite also provides free group accounts for communicating multiple users at a time. If any of the account has to be handed over to a new user, it can simply be done by renaming the account. Not only the new user gets all the data, but he continues to get the mails, sent to the old account. This feature makes G Suite distinctive among all others. Mail delegation enables others to respond on behalf of a user in his absence.
Drive Data Collaboration: Data communication through attachments has always been a challenge from security perspective. The accessibility of the same can be controlled through Google Sheets, Google Docs and Google Slides. The level of engagement of the users can be determined by the owner. Editing/Viewing/Commenting permission can be set while sharing a document. Even expiration can be set for the users. If any document requires inputs from multiple people, it's not required to be shared multiple times. All the users can work on a single sheet simultaneously from their respective devices. All the documents are autosaved in the drive data and are accessible across devices. No other cloud based solutions have these advanced features.
Several Productivity Tools of Google: There are several other tools like Google Form, Google Keep, Google Site which makes G Suite more lucrative among others. Form is a convenient way of gathering information, which can also be used to analyse & generate report. One can take a note in Google Keep and can access it as and when required from any other device, by logging into the same account. These are few of the advantages of cloud connectivity. Google sites can be used for information sharing among a team or in public. Contacts and Calendars are also manageable across all signed in devices.
Mobile Device Management & IP Restriction: Google not only provides ease to the users, but also provides the strict monitoring tools to the Admins. Admins can monitor login IPs, mobile devices, where enterprise data is being accessed. Offline client configuration can be blocked to ensure maximum security. If the Admin wants to control the sign-in activities of different applications associated with a single G Suite user, then it can be done through Single Sign-On feature. IPs can be blocked/bypassed through the same. MDM is an integral part of G Suite, so organizations does not require to invest in third-party products.
Google Vault: Google Vault enables G Suite Admins to retain & archive users' data in cloud, even if users delete the same from their respective accounts. G Suite Business users get the Vault feature as an integral part, whereas G Suite Basic users have to purchase it additionally. G Suite Business plan provides unlimited storage to the users along with all the features provided by G Suite Basic. It also provides Team Drive, where admins can get all the data, even if there is no one left in the team. Drive files are audited & admin gets security alerts, if predefined policies are broken.

DLP Features: G Suite Enterprise further enables organizations to scan any sensitive information, used in mail and drive. The advanced DLP features can even identify the text of a scanned image and can notify the stakeholder to prevent further consequences. This plan also enables users to record hangout conferences for future reference.