Why G Suite Basic over G Suite Standard Version?
G Suite Basic can help you to get a lot of administerial features which you will not get in the standard one. Added features of admin console will help you to enhance your organisational security, monitoring and efficiency.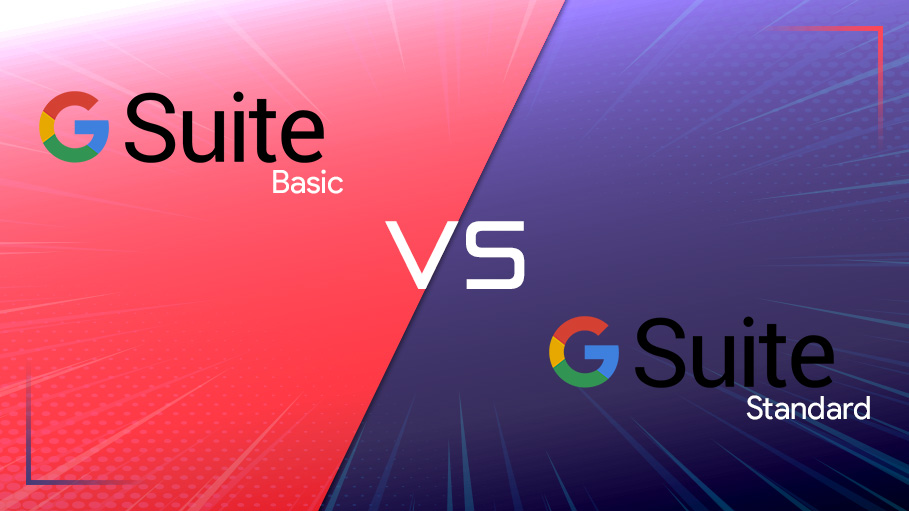 G Suite is a premium corporate emailing service offered by Google since 2006. Google offered G suite for free until Dec 6, 2012. This free version is known as Legacy or the standard version of G Suite. However, Google has stopped offering the free version. If you have signed up in G suite before 2012 then you can continue using the free version with some reduced business features, although, it is important to upgrade to the paid version if you still continue using the free version. In this article we have tried to cater to you the reasons why should you upgrade to G Suite basic.
Storage Space: Only 15 GB of storage space is available in the legacy version. However, you get 30 GB of storage space by default if you upgrade to G Suite Basic. Additional storages cannot be purchased in the legacy version which is possible and are available depending on requirements, on chargeable basis in case you upgrade.
Addition of user: If you are a standard version user and have used all the licenses to add more users, first you need to upgrade to G Suite basic, only then you can create additional users.
Administrative benefits: In G Suite basic version as an admin you get numerous features to maintain your organisational security, which is not available in the standard one.
Email whitelisting and blacklisting: If you find emails from any specific mail Id incorrectly going to spam, then as an admin you can whitelist those domains, after which the mails will no longer remain as spam. You can blacklist or block any domain as well if you don't want to receive any emails from those senders.
Routing for monitoring: As an admin of G Suite you can configure routing. When you configure routing policy in the messages, you will have the option to reject, quarantine or deliver those with modifications.
.
Applying compliances: To maintain organisational security you can apply compliances to the emails as a G Suite administrator.
Content compliance: To enhance security, content compliance can be applied. For example, you can set 'confidential' as a content compliance. Now if anyone wants to send any company information which contains the content 'confidential', the message will be routed to the legal department, they will have the option to reject or modify or quarantine.
Attachment Compliance: Through attachment compliance, you can restrict sharing messages of different file formats. Rules can be applied over the file name, type, and message size.
Mobile device management: Most important feature in G Suite is Mobile device management to keep all the data of your organisation safe. If you enable MDM, then the people of your organisation can sign in the account in their mobile, and as an admin you
have full control to monitor, If the mobile gets lost you can wipe off all the data or track the mobile or format the mobile as well.
Email Log reports: As an administrator, you will get a report option from where you will get a consolidated view of all the mailing activities of users. From the reports you will be able to customize the reports or export the data according to organisational need.
Google support: Most importantly why users should upgrade from the legacy version of G Suite to G Suite Basic or other available business packages is because of support from Google. Google has stopped giving support for the legacy version, so there remains high chances of vulnerability of company data. If you are facing any issues with the company emails while using the legacy version of G Suite, Google will not provide the support. You will have to upgrade to G Suite basic first. This means that there is no guaranteed uptime, and your business email can break-down anytime!
Google Vault, an archiving solution is an add-on service available on chargeable basis offered by Google, is mainly used for archiving company documents, chats, emails and drive data. This solution can only be implemented while using G Suite basic or higher versions and not in the free standard version of G Suite posing a threat to the old data required for several legal and other compliance policies of an organisation. These are the key points for which you should switch to the G Suite Basic version from the standard version of G Suite, as it exempts the possibility of any data loss and adding more security, efficiency and monitoring features which are essential to keep your business data safe.
Get our hottest stories delivered to your inbox.
Sign up for Scrabbl Newsletters to get personalized updates on top stories and viral hits.