Insights on Services Offered by Infiflex
This article illustrates the quality services offered by Infiflex Technologies such as G Suite, GIFFY, GCP, Digital Marketing and much more.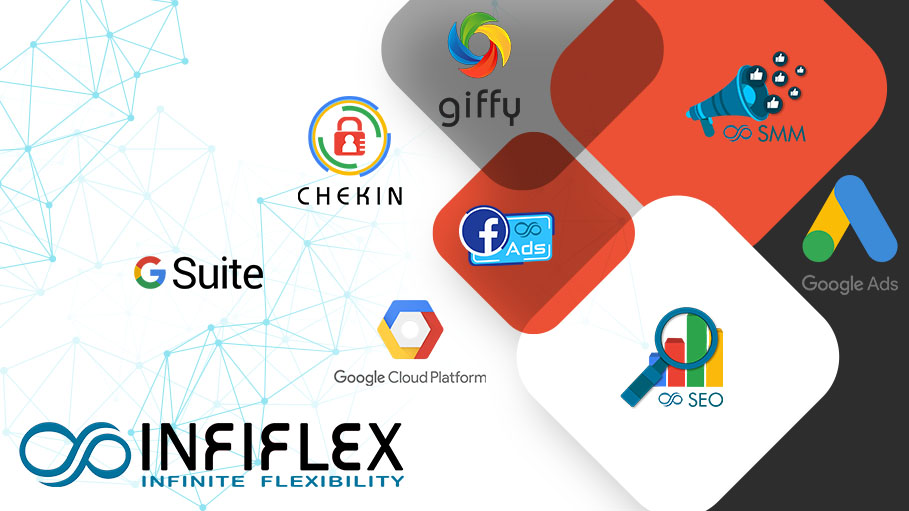 Infiflex Technologies is a reputed IT company which has prospered in providing excellent solutions in the cloud computing environment as well as digital marketing. Our numerous respected clients are present all over India and we also have a presence over the US, UK, Malaysia and Singapore.
So let us stroll through the comprehensive portfolio of cloud-based products and services offered by us.
G Suite
We offer a variety of G Suite services which comprises of the basic three versions G Suite Basic, G Suite Business and G Suite Enterprise. Google Vault is included as a part in the Business and Enterprise Version. G Suite is a package of cloud computing communication, collaboration and productivity tools which comprises of applications like Gmail, Hangouts, Calendar, Forms, Docs, Sheets etc.
Google Cloud Platform (GCP)
Google Cloud Platform or GCP is a cloud computing services suite that has structural similarity with end-user products of Google like YouTube and Google Search. Google Cloud Compute Engine which is an Infrastructure-as-a-Service (IaaS), supplements or replaces servers and routers with cloud-based products that perform the same functions. Powerful virtual machines can be used by customers in the cloud platform.
GIFFY
It is basically an application development framework, with which businesses can create domain independent applications without any difficulty. One can easily use this secure, straight forward, and cost-effective productivity tool comprising of a predefined set of tools. Using this, business or enterprise owners can ensure proper management of productivity, performance and profits.
For instance, GiffyMail is a cost-effective mass mailing software of GIFFY, which can be used by companies for email marketing. It can help in sending timely mails to prospects and clients with the benefit of choosing the right template as well as tracking the response to the email campaign.
CHEKIN
It is a secure authentication system, developed by GoogleAppEngine platform, through which one can securely connect to their Google account securely to any device. CHEKIN can smoothly integrate through the Google Cloud Platform. Thus it is appropriate in terms of productivity and time consumption for any organization who wants to migrate to G Suite.
Digital Marketing Services
In this modern era of digitization, digital marketing is a must for all businesses. We offer one of the best digital marketing services in the areas of -
Conclusion
So on an ending note, it must be said that you can place your complete faith upon us when choosing any of the above services we provide. Optimum success and efficiency is assured from our end.
Get our hottest stories delivered to your inbox.
Sign up for Scrabbl Newsletters to get personalized updates on top stories and viral hits.