Google Drive and Calendar - A Tool of G Suite for Business Development
G Suite helps in growing a business in the various fields because of its advanced, upgraded tools and cloud-based platform. Features like Drive, Google Docs, Google Sheets, Google Slides, Google Sites, Google Forms and calendars help in enhancing business growth in today's generation.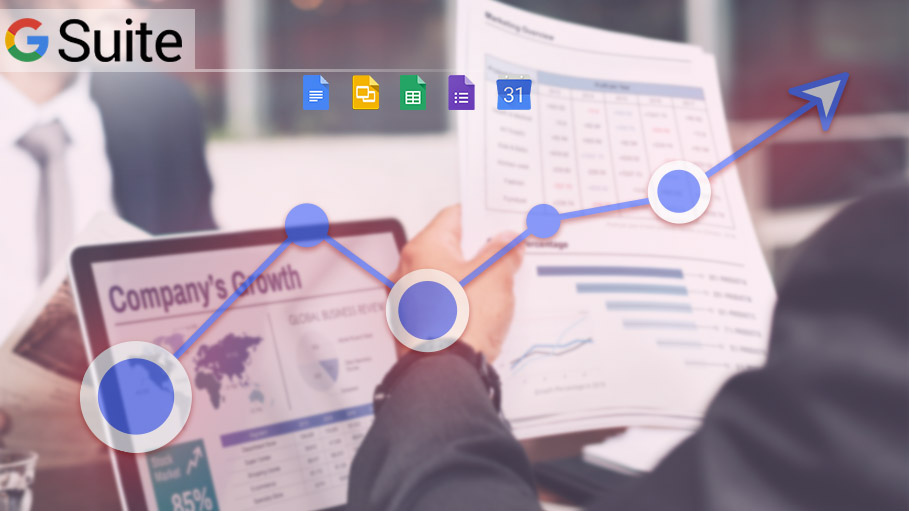 Google initially launched "Google Apps for your domain" and later it was renamed with G Suite with add-on security and advanced features useful for the Business Development. Basically, it is web-based cloud email service with communication & collaboration tool. On the other side, it helps in growing up a business more effectively which has now enriched successfully in the world of the Internet. As it is a cloud-based platform, helps in both storing and collecting of data and also in progressing the workflow and communication with employees. You now don't need to waste your money in fixing technical issues, it helps in collaborating with your team, companies. Easily accessible from anywhere, anyplace at any time. It has different interfaces for various devices too.
Under G Suite there are some upgraded features which also helps in growing up a business. It helps in sharing and editing various types of files which are in the form of Docs, Spreadsheets and Presentations which puts a highly effective impression in the business growth because of its advantages and security benefits.
Communication: For communication Google now provides Gmail & Hangouts (Chat and Meet). It is a platform where the employees can have an internal discussion through chats and video conference if any of them are residing in various geographical locations. This is beneficial for business growth as everyone can communicate with each other facing no trouble.
Collaboration: Let us imagine a situation where you have to work on the same project or a sheet with one of your employee. Now that you don't have a platform to collaborate you now have to store it in pen drive, or desktop or by discussing it via phone or chats which is quite a time taking and does not help in building up growth in business. So why to lack behind this thing when the upgraded version of G Suite is there where you can now easily share your sheets and let them collaborate equally in the same sheet by applying filters. Now any of them can work on the same sheet simultaneously without wasting time behind the same purpose.
Google Drive - A boon to the modern era of business: Google drive helps in storing data in a cloud-based platform which helps in easy access(As the data can be accessed from anywhere, anyplace and anytime) and also stays secures in the cloud. You will get your required storage space in the different available editions of G Suite i.e basic, business and enterprise editions. It is one of the best things for its advanced and upgraded features.
Google Docs:
By docs, we can create an official document or sharing some important pieces of information where one can easily access from anywhere, anytime and any place. It is free, converts to most of the file types, real-time collaboration, offline view mode, roll back to any version & view the files revision history, translation to a different language and so on. It saves time, a good app to play smarter in the business concern.
Google Sheet:
Want to work in real time and chat with your team on your annual budgetary sheet? Here you go with Google Sheet, allows you with the editing features (formula & formatting), import and export features .xls, .csv, .txt and .ods formatted data, create charts, script editor, calculations, etc. It plays a vital role in checking the rise and fall in Business growth. It is a well-designed which can help one to organize the teams, simplify goals, and even map out complex processes.
Google Slides: Google slides are used for PowerPoint Presentations online in a fancy way. It allows us to make both online and offline presentation, real-time editing and collaboration, no cost available with Google paid account, avoid purchasing presentation software separately, sharing, professional features & template available, online publishing with a secure link, etc. No extra money to invest and help in business concern at the time of business presentation, internal project works, training, etc.


Google Sites:
Google sites are used for publishing an intranet website. Need no web hosting and you can build your website just like that. This basically to build company intranets and internal project sites, without HTML coding and with no experience of website designing one can easily build a secure web page. One can use the sites to centralize all the docs, sheets, presentation, etc and offering within the G Suite. No server maintenance needed and it saves companies money, time, resources.
Google Forms:
Google Forms is a trouble-free and appropriate way to execute an online survey or analysis and get the feedback/information from customers, clients, vendors, etc. Instead of investing in other online paid services we can collect the data for free via email. Forms can also be shared over emails, websites or links. It is free of cost and comes with G suite package. Real-time Responses will appear where email notifications can be enabled for any new responses appeared.
Google Calendar:
Google calendars are used for organizing meetings and sending invitation requests. It sends notification alerts via the Email. Why should one maintain a diary or organizer if you have Google Calendar app which is free of cost and comes with G Suite package. It will save the money and time both and easily sync with your inbuilt mobile, tab, etc calendar. It will help you take control of your workday and be more productive. Alert you before the meeting or any special date/time.
Creating an Event:
Get our hottest stories delivered to your inbox.
Sign up for Scrabbl Newsletters to get personalized updates on top stories and viral hits.