Apple iWork for iCloud Versus Microsoft Office 365
To help you pick the right software for your small business, we've put together this head-to-head comparison pitting iWork for iCloud against Office 365.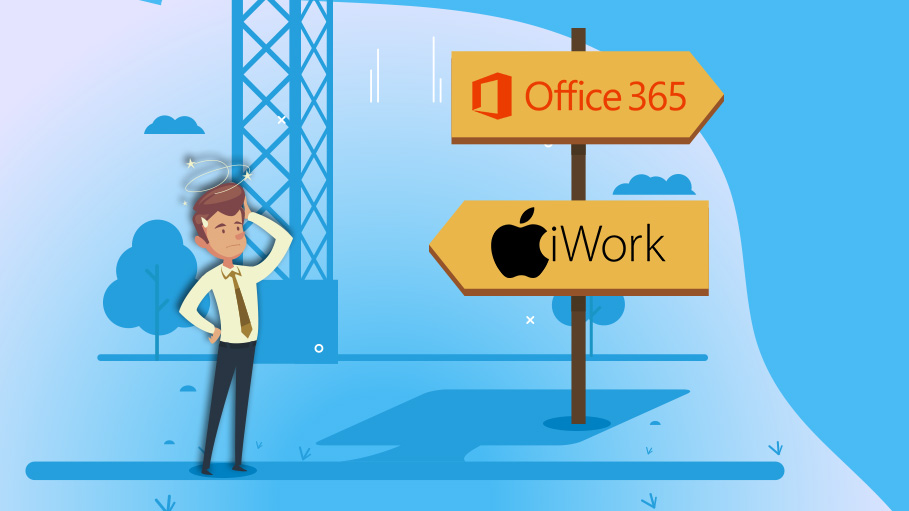 Imagine this: You are working very hard for your company's next project. A project that will determine your future in the company. You collect all the data and prepare for a presentation the next morning and when you are just about to save the document, your device crashes! Nothing is saved and everything you collected is gone! That's the time when you call Him and ask for a solution. A solution is there but not exactly from God, rather from the 'cloud'.
Thanks to the Cloud Solution, you can access your documents from home, workplace and anywhere. Even the smallest of changes you make in your document, it is saved instantly if Autosave is ON. Different companies have different cloud-based office tools allowing users to view as well as edit their documents, spreadsheets or presentations and other documents from any device. Out of all the available office productivity tools in the market, Apple iWork for iCloud and Microsoft Office 365 are the two giants reigning the business arena.
"As you grow in this business, you learn how to do more with less." – Morgan Freeman
Over the years, different versions of these great office productivity tools have definitely evolved with respect to the current needs, which in turn helped the users to embark upon and opt for these tools.
Applications involved**
| | | |
| --- | --- | --- |
| | | |
| Word Processing Application | Pages | MS Word |
| Spreadsheet Software | Numbers | MS Excel |
| Presentation Software | Keynote | MS Powerpoint |
| eMail Client | x | MS Outlook |
| Note taking Program | x | MS OneNote |
**MS O365 has other products depending upon the plans.
Price
After the latest update, upgrading to Apple's new iWork for iCloud is free, that is if you already own a license for the desktop versions.
It was initially introduced for $79 but later it was cut down to $19.99 for each program.
There is no monthly fee for usage.
In Microsoft Office 365, it is a subscription-based service with different subscription plans for all sized businesses. It has a plan starting from $95.32 per year for a single user. They also have one-time purchase pricing.
Mobile Compatibility
In iWork, all apps have their iOS versions which can be purchased for $9.99 each. There is almost no difference in the desktop and mobile version of the applications, thanks to iCloud.
In Microsoft Office 365, a free version of the Office is available for Android, iOS or Windows Phone devices. If you are having a licensed version of the Office 365 then you just need to log in to that account to access the same documents for both desktop and mobile. As for the non-subscribers, they can still use the apps to view and edit the downloaded files only.
Conclusion
Both iWork and Office 365 offer similar functionality towards the office productivity tools. Both the products have different sets of strengths and limitations. Choosing one depends upon personal choice, device compatibility and pricing. Both iWork and Office 365 are best in each one's own field of application or usage and definitely two of the greatest office productivity tools.
Get our hottest stories delivered to your inbox.
Sign up for Scrabbl Newsletters to get personalized updates on top stories and viral hits.