Fight for the Pinnacle: Slack or Microsoft Teams
Microsoft Teams and Slack have been giving each other a toe to toe competition in the Chat and Collaboration Application platform. The fight is to add better features, more integrations and providing a premium level product in the simplest way possible.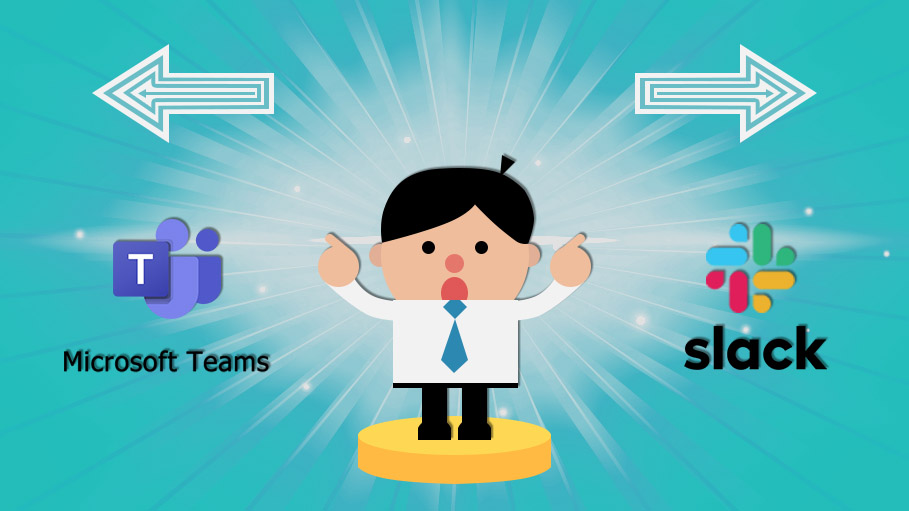 As we wrap up the first decade of the 21st century, we see that more and more people from around the world are getting connected to each other with Instant Messaging apps. Each modern Instant Messaging software generally provides users either a separately installed software or a web-based client. Not only for personal messaging, but also for the corporate sector, for people around the globe, a cloud-based collaboration software is a must-have in today's business environment. Among the basket of Instant Messaging Softwares, two of these are sitting at the zenith of the enterprise: Microsoft Teams and Slack.
Slack
Slack is a subscription type cloud-based instant messaging platform. It is developed by a single product organization Slack Technologies and initially released in August 2013.
Microsoft Teams
Microsoft wished to bid for Slack in March 2016, but instead, they focused to improve Skype for Business. Later that year, in November 2016 Microsoft announced Teams to the world stating it as a direct competitor to Slack.
Plan and Pricing
Slack has 4 separate plans for different business sectors.
Free
Standard - ₹ 190 per month (billed annually)
Plus - ₹ 357 per month (billed annually)
Enterprise Grid - N/A contact their sales team
Microsoft Teams is free to the public which can be downloaded from the Microsoft Store. To get the benefit of premium services of Microsoft Teams, one must subscribe to the different subscription plans of O365 or M365. Along with Microsoft Teams users also get full utilization of other features like email hosting, Office Tools, OneDrive, SharePoint, etc.
O365
Business Essentials - ₹ 125 per user per month
Business Premium - ₹ 660 per user per month
Enterprise E1 - ₹ 530 per user per month
Enterprise E3 - ₹ 1,320 per user month
Enterprise E5 - ₹ 2,315 per user month
M365
Business - ₹ 1,320 per user per month
Enterprise E3 - ₹ 2,115 per user per month
Enterprise E5 - ₹ 3,765 per user per month
Features
Slack has unlimited 1:1 audio and video calls in the Free version whereas conference calling feature is available upto 15 participants in the paid version.
Microsoft Teams has an unlimited 1:1 audio and video calls in the Free version. If the subscribed version available along with O365 or M365 brings upto 500 participants in a meeting.
Slack has upto 10 integration limits in the Free version and upto 1800 in the paid plans.
Microsoft Teams have 250 apps and services as integration for all its plans.
Slack has a different file storage plan starting from 5gb, 10gb, 20gb to 1tb of file storage respectively.
Microsoft Teams have 2gb per user + 10gb shared storage for the free version to 1Tb of shared storage in the paid version.
File Sharing and Collaboration
Both Slack and Teams have a limit for uploading files. While Slack has a limit of 1gb, Teams is capped at 15gb. In Teams if any video file is uploaded, because of an advanced integrated software, the video will open immediately and play within Microsoft Teams without downloading. If the same video is uploaded in Slack, it needs to be downloaded by each of the participants to watch the video.
The best collaboration feature of Microsoft Teams is that it allows you to not only play videos and comment at the same time, but also work using Office documents from OneDrive without leaving the app. This feature is missing in Slack.
Conclusion
The fight for the Ultimate Chat Application will always be there. Each has its pros and cons. Slack being a bit friendlier for the Small Business Market users. On the other hand, Teams is better for bigger organizations. As a user, the choice between these two applications depend on what you require from a chat and collaboration application.
Get our hottest stories delivered to your inbox.
Sign up for Scrabbl Newsletters to get personalized updates on top stories and viral hits.