Microsoft 365 - A Complete, Intelligent Business Solution
Microsoft strives to bring package system in all of their products. The Microsoft 365 is a complete package of Microsoft Office 365, Windows 10 for Business and Microsoft Enterprise Mobility+Security. It not only allows the customer to work smartly, but also in a collaborative manner.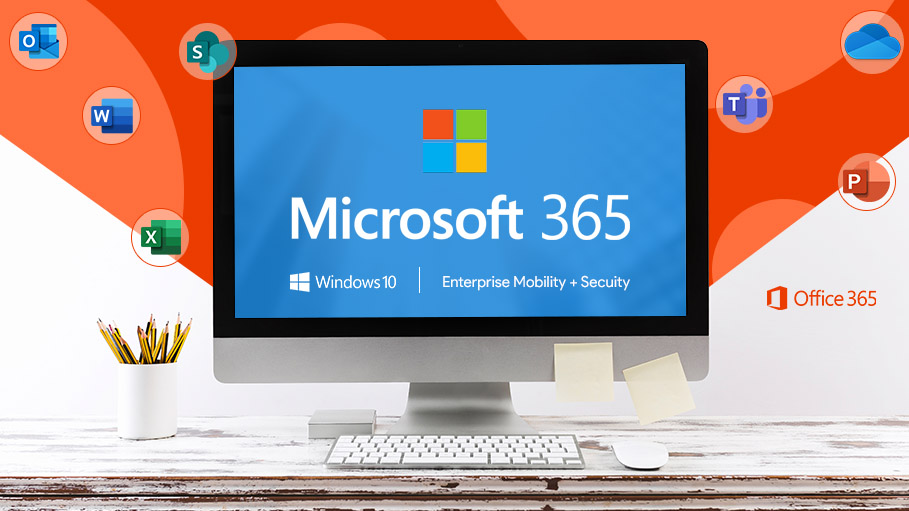 Every organisation requires a system with a licenced OS, a mailing solution, a secure cloud server and a very well protected security management system. Generally people tend to go for the individual requirements at a time but that affects the cost in the long term. That is where Microsoft 365 comes in handy. Microsoft 365 is a one stop shop for all your requirements. It is a complete package of:
Microsoft Office 365

Windows 10 for Business

Enterprise Mobility + Security
Microsoft Office 365:
A premium quality mailing solution is needed by every organisation. Who can provide a better user interface and advanced smart features than Microsoft!! The Microsoft Office 365 comes with not only a mailing solution but also a bundle of our renowned daily used Office software like Outlook, Word, Excel, PowerPoint, Access (depending upon the package one chooses).
For more information regarding Microsoft Office 365 Plans and Pricing refer to this link :
https://www.infiflex.com/microsoft-office-365--offerings-and-benefits
Windows 10 for Business:
One of the most secure operating systems available in the market is provided by Microsoft. The Microsoft Windows 10 comes with 2 different versions namely: Windows 10 pro and Windows 10 Enterprise E3. The Windows 10 pro lets us users focus on running the business rather than the IT. The Enterprise E3 version allows you to simplify your work on an Enterprise level with advanced powerful tools and security options.
Enterprise Mobility + Security:
The security is one of the key requirements of any organization. With the current increase in the number of employees day by day, there is a rapid increase in the threats faced by any organization. The Enterprise Mobility + Security is a 'smart' mobility management security platform. EMS gives Identity and access management, Information Protection, Threat Protection, Unified endpoint management and Cloud access security broker. It also provides Azure Active Directory, Microsoft Intune, Azure Information Protection, Microsoft Cloud App Security, Microsoft Advanced Threat Analytics, Azure Advanced Threat Protection.
Many immature organizations still tend to spend more on Information Security Management System and try to save the budget by using a basic mailing solution, older versions of office tools and unlicensed or outdated version of OS. These later products are more prone to threat from cyber attacks, data loss and even system crashing. Hence the companies might spend more in recovery of the loss. To prevent these issues Microsoft 365 provides a hassle free solution. The basic pricing of M365 starts from ₹1,320 /user/month.