Improve Security and Report with Work Insights in G Suite Enterprise
Through Work Insights get product adoption insights for Gmail, Drive, Calendar, Docs, Sheets, Slides, and Hangouts at the domain, team, group, organizational level.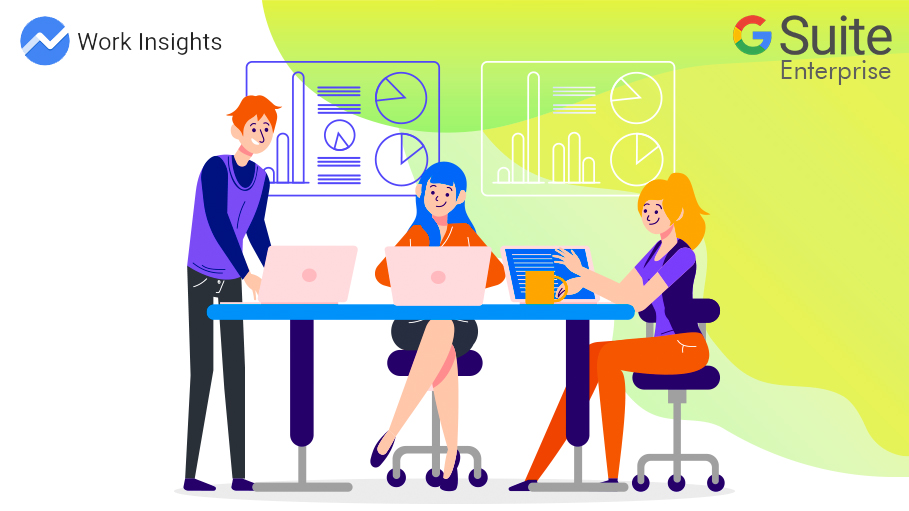 Work Insights is a reporting tool for G Suite that provides you clear visibility into the impact of your G Suite deployment. Using easy-to-read charts, you can see metrics on your organization's G Suite adoption, productivity, and collaboration.
By examining your organization's G Suite usage metrics, you can identify success factors and problem areas. With these insights, you can plan and implement initiatives to improve the productivity, effectiveness, and engagement of your workforce.
Dig 1: Work Insights Control Panel
See how teams are adopting G Suite
With adoption charts, you can see users' level of engagement with G Suite over time and where there might be adoption problems. For example, administrators and change management staff can track G Suite deployment progress as well as determine whether users need more training in particular apps. They can also see if legacy products are still in use, which might be holding back G Suite adoption. Necessary actions can be initiated accordingly.
See how productive teams are with G Suite
With work patterns charts, you can see how efficiently and effectively your users use G Suite, which apps and activities they spend the most time in, and whether they're working outside normal Office hours.
Who should use Work Insights?
Work Insights is a powerful tool for your organization's decision-makers who need G Suite usage data, such as:
IT administrators

Change management staff

Human resources staff

People operations staff

Team managers

Executives

Business analysts
Setting up Work Insights
Being a G Suite administrator, you need to first decide which teams' G Suite usage data to make available on the Work Insights dashboard. Then accordingly you can give other personnel access to teams' data on the dashboard.
Depending on the privileges you give to them, these personnel can filter data by the following types of teams:
Organizational units - Teams organized according to your organization's structure. If you have given users access to data for multiple organizational units, they can filter data separately by each one.

Whitelisted groups - Teams organized into groups. You can give the users access to data for all whitelisted groups (such as mailing lists). Users can filter data separately for each group accordingly.

Managers' teams - Teams that report to a particular manager and to any other managers in their reporting line. Users can thereby filter data separately by each manager's team in a reporting line.
Privacy features in Work Insights
Work Insights provides employees with appropriate privileges, such as administrators, managers, and Human Resources, with access to data on how teams engage with G Suite services. As the privacy of users' data is important, Work Insights includes features to help mitigate privacy concerns.
Data Access is restricted
Your organization's G Suite admin provides only specific users who have access to data on the Work Insights dashboard. Also, the admin can restrict these user's access to only specific teams' data, including organizational units and managers' teams. Additionally, the admin can restrict a user's access to data from all groups (mailing lists and policy groups) that are whitelisted in Work Insights.
Users' G Suite Activity Data is aggregated
In Work Insights, G Suite activity data is combined for all users within an organizational unit, group, or manager's report line. G Suite user's activity is not displayed separately from other users. For example, the number of times an individual user accessed Docs isn't shown on the dashboard.
A Minimum Team Size is required
Personnel with access to Work Insights can filter G Suite data by a specific organizational unit, group, or manager's team only if that team has at least 10 members. Administrators can increase the minimum-member threshold for some charts to comply with their organization's policies and help prevent an individual user's data from being identified.
Users' Work Items are kept Private
The dashboard of Work Insights doesn't show users' specific work items, such as emails, chat messages, and calendars. However, what might be visible are the titles of a user's documents to a Work Insights User if those documents are already shared with that particular user.
Work Insights is available only in G Suite Enterprise and Enterprise for Education edition licenses.
Get our hottest stories delivered to your inbox.
Sign up for Scrabbl Newsletters to get personalized updates on top stories and viral hits.