How to Configure Gmail Account in Thunderbird or Outlook?
The comparison of the email client Thunderbird and Outlook is an often asked question. Although it depends upon the requirement of the user, which one would execute as a better solution to cater to the necessities.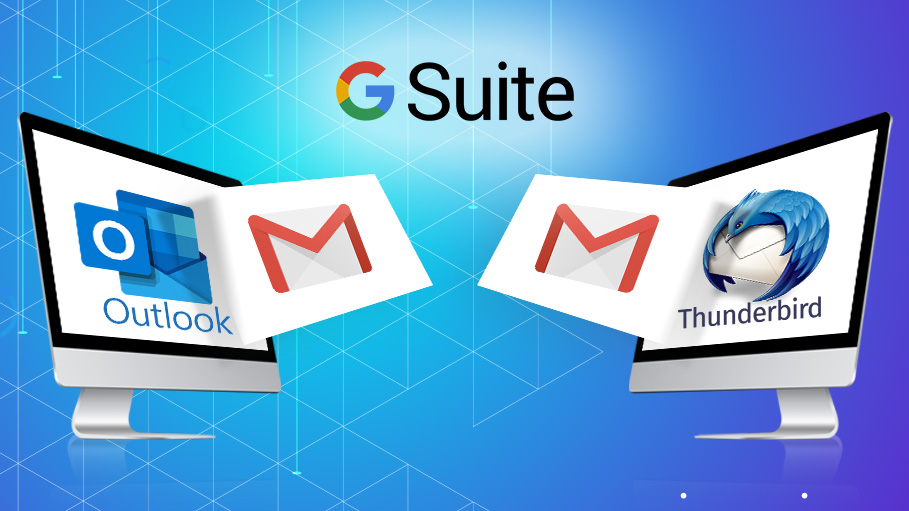 Introduction
Generally, the utilisation of any email client becomes applicable to improve the productivity and to keep the organisation working seamlessly. Email client functions for you as a mail reader, sending, receiving, writing and for keeping a record of all mail messages. You can use the mail client to flag important messages or store in a separate folder for business-specific purposes.
Outlook or Thunderbird?
Both the web applications work well with IMAP, POP and SMTP protocols. Thunderbird saves the data in MBOX file format and you can convert it to other formats. On the other hand, in Outlook the data is stored as PST file format and can be changed to other file formats if needed.
Thunderbird supports LDAP email address auto-complete, but it doesn't include the calendar applications the way Outlook does. Thunderbird is an open-source choice, which means it's a free tool. Outlook, on the other hand, comes with the Microsoft Office productivity suite, which isn't free for use. If you're looking for an enterprise email client, Outlook is certainly the right choice between the two. However, if you prefer an open-source option, Thunderbird may be a better option.

Overall, Microsoft Outlook still dominates the market of email clients. It provides a better interface, better organization and plethora of features. Compared to Thunderbird, Outlook gives users better enablement and power to organise.
How to configure in Thunderbird?
Steps to configure Gmail account in Thunderbird

Step 1: Implement the following change in Gmail account.




Log in to your Gmail account >> Go to the Settings >> Click on "forwarding IMAP and POP" >> Now enable IMAP and save the change.




Step 2: Process in Thunderbird email client.




Now download Thunderbird mail client >> Log in with your credentials.>> Ensure the incoming and outgoing server >> Now go to read messages to view your mails.




You can configure manually as well by the following steps :




Thunderbird >> Account settings >> Server settings/ copies and folders.
How to configure in Outlook?
Steps to configure Gmail account in Outlook

Step 1: Implement the following change in Gmail account.




Log in to your Gmail account >> Go to the Settings >> Click on "forwarding IMAP and POP" >> Now enable IMAP and save the change.




Step 2 : Process in Outlook email client.




Open Outlook and go to the file tab>> You will find add account option below account settings. Click on it>> Now go to manual setup and additional server types and click on next .>>For Choose your account type to select the option POP or IMAP. >> Now add properly your host server information and your login credentials as well.>> Go to More settings>> Click on Outgoing server tab.>> Click on the box for My outgoing server (SMTP) requires authentication and also click the button for Use the same settings as my incoming mail server and click ok>> Now on the same tab go to the Advanced option and check all details for port number and encryption type.>> Click Next and a tab will appear with confirmation of correctly entered information. Now close it and click on Next. >> Now select Finish option.
Why should you configure?
When you are looking for operating your emails even if you are offline, an email client stands absolutely productive tool. Both the email clients allow you to access multiple email accounts and provide a qualitative dashboard.
Conclusion
Altogether both the web applications should be considered as optional facilities to utilise if required, rather than assuming these as mandatory tools to enhance your Gmail account.
Get our hottest stories delivered to your inbox.
Sign up for Scrabbl Newsletters to get personalized updates on top stories and viral hits.