Benefits of Microsoft Teams
Microsoft Teams is a combination of different features in a single platform. When you have a common place to create, visualize, share ideas and make decisions as a team, there's so much you can achieve.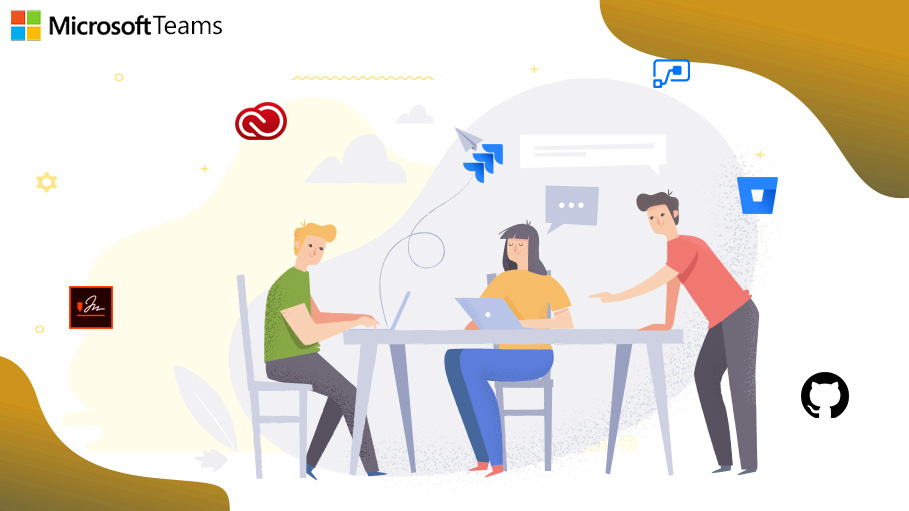 1. Make Team meeting more effective and smooth
Most of the people are using different tools to schedule meetings. These meetings can be a video or audio call. Microsoft Teams provides you a platform for scheduling audio/video meetings as well as screen sharing options which helps in connecting with other people remotely. Unlike other different applications which require calling numbers, Teams only requires you to be a part of it. Teams eliminate the confusion of " where and when are we
Meeting today? "
An interesting advantage of Teams is when a meeting is scheduled, it automatically synchronizes with your outlook calendar so you don't have to go back to the calendar to add the same.
You can record the entire meeting including any web demo you are conducting during the session. The recorded video file is valid till seven days within which you can download it to your local drive or share with all concerned, all depends on your needs.
Also, you can take notes when you're in a team meeting by integrating applications like OneNote. It can record the important points which are discussed in the meeting and you share the same with others when the meeting is over.
2. Eliminates the chaos of communication and files in projects
Like the above-mentioned benefit, Teams makes collaborating with the members of your organisation much easier. Usually, people face many problems when they collaborate through emails. It is difficult to keep track of all the conversations and files. With Teams, you can eliminate this chaos by storing the files and conversations in a central-chat based system.
Messages sent and received within Teams are more like the messenger/text messaging format
instead of an email format. Although you can send files within the team.
Note: Teams gives you the option of creating Channels specific to a purpose. The 'General' Channel is created by default. You can have multiple Channels and within each, you can create nested folders to store files. I would prefer to cover this topic in depth in a different post.
3. Customize Your Team with different Apps
Every person in the organisation requires something extra and different. Microsoft Teams have a well-organised app store which provides you different types of application that can help in your business. Some of them are mentioned below:

Adobe Creative Cloud: used for graphic design, video editing and photoshop.
Flow: Used for automating tasks.
Planner: Used for creating plans, assemble and align tasks.
4. The Amazing Bot System
If you're still not convinced, let's discuss about the amazing bot system. A bot is a kind of helper and it provides you information that you need. It will chat with you like a normal User and will answer your questions. Bots are very fast and effective. You can add different type of bots in Teams.
T-bot is the standard bot present in Microsoft Teams. It can answer all your questions while you're navigating through Teams. You can check whether you're chatting with a bot or a real person. A bot's profile picture is in a hexagon, not a circle.
5. Teams Mobile app
If you're worried about going to your desktop for accessing the files, then you can download the Teams app which is available on play store and iOS app store. You'll find a user- friendly UI through which you can easily schedule meetings and chat. The only difference is of Real-time editing.
It really helps you a lot when you're out for some work and you need to access Microsoft Teams. The highly functional UI makes work very smooth for the users.
Get our hottest stories delivered to your inbox.
Sign up for Scrabbl Newsletters to get personalized updates on top stories and viral hits.