Use AWS LightSail to Quick Launch Your Project
Amazon Lightsail is a VPS (Virtual Private Server) service which gives customers templates to choose from, either choose a Plain OS or an OS with a pre-baked application (stack), ready to be used with a click of a button.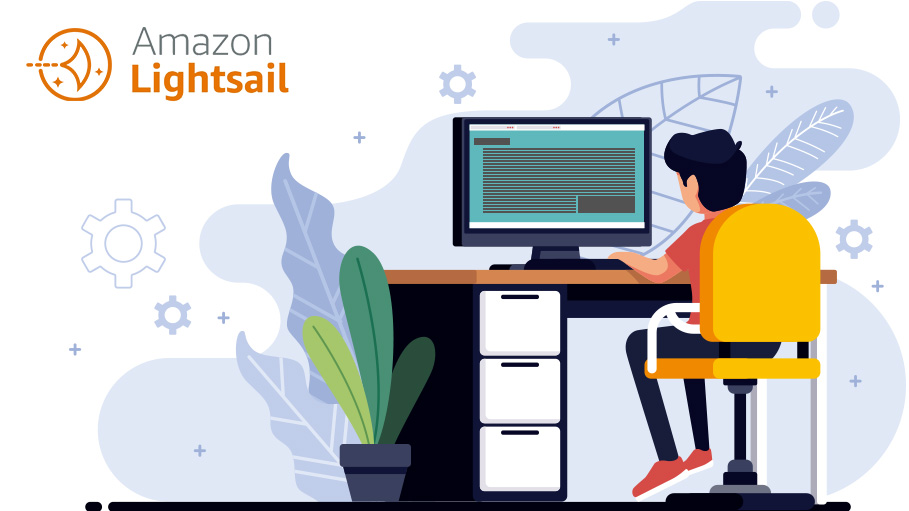 Amazon Lightsail is an easy-to-use all-in-one cloud platform that offers a Customer with everything necessary to build an application or website, on a cost-effective, monthly billing plan.
Features
Managed environments
Lightsail comes in a package that automatically configures networking, access & security groups.
Highly available storage
Every Lightsail server comes with high-performance, highly reliable, optimised SSD-based block storage.
Secure networking
Lightsail servers run on the trusted AWS network, where customisation can be done to network, IP addresses, DNS, firewall, etc.
Easily scalable
Load balancer for Lightsail has been designed to easily handle the increased traffic and heavier workloads which also connects to other AWS services, thereby rendering the platform easily scalable.
Powerful API
The Simple and flexible Lightsail API can extend your application or integrate it with external apps.
Additional benefits
Lightsail comes inclusive of a static IP address, DNS manager, server monitoring, SSH terminal access (Linux/Unix), RDP access (Windows) and secure key management.
Operating system & Application templates
A number of preconfigured, one-click-to-launch applications or developer stacks are offered by Lightsail. Simple OSs are also available.
Following are the OSs: Amazon Linux, Ubuntu, Debian, FreeBSD, OpenSUSE, Windows Servers.
Following are the one-click-to-launch applications: WordPress, Magento, Drupal, Joomla, Ghost, Redmine, Plesk.
Following are the developer stacks: Node.js, GitLab, LAMP, MEAN, Nginx, Django.
Services
Lightsail virtual servers
AWS offers reliability and backed by its power through Lightsail where virtual servers as instances are provisioned. Your website, web application, or project can be run in minutes, and managed from the intuitive Lightsail console or API.
Lightsail helps a Novice to click-to-launch an OS or a pre-configured application or development stack, such as WordPress, Windows, Plesk, LAMP, Nginx, intuitively.
Load balancing simplified
The Load balancer of Lightsail can route web traffic across all the instances, can accommodate variations in traffic & better protect from outages.
Lightsail's load balancers additionally include integrated certificate management, which provides free SSL/TLS certificates to be provisioned in just a few clicks. The customer can request and manage certificates directly from the Lightsail console, renewal management is done by AWS.
Managed database services
A fully configured MySQL or PostgreSQL database can be launched in minutes, maintainable by Lightsail, which can easily scale, deploy multi-tiered applications creating multiple instances that are connected to a central managed database, and a load balancer that directs traffic to the instances, also independent of virtual servers.
Upgrading to EC2
LightSail is upgradeable to EC2. The upgrading process is simple, which involves a snapshot & attaching it to an EC2 using a wizard.
Access to AWS services
Amazon Lightsail focuses on the set of features including instances, managed databases and load balancers to make it easier to get started. It can be integrated with some of the 90+ other services in AWS through Amazon VPC peering.
Hands-On
Log into your AWS account (root/ IAM access).

Go to Lightsail from AWS Management Console.

Click on Create an Instance.

Select different customisation options from the console.
Figure 1.
Figure 2.
Figure 3.
Figure 4.
Figure 5.
Figure 6.
6. Click on Create Instance.
7. You'll see your Instance running.
Figure 7.
8. You can directly SSH into your instance & configure the OS or OS+ Stack.
You be assured and have an excellent experience building your new project using Lightsail. Feel free to get in touch with our team of certified cloud professionals for any help that you may need.
Get our hottest stories delivered to your inbox.
Sign up for Scrabbl Newsletters to get personalized updates on top stories and viral hits.