Titans of the Cloud Computing War- AWS, Azure, GCP
Amazon was the undefeated king for a long time but now its dominance is being challenged by Microsoft & Google Cloud Computing Platforms.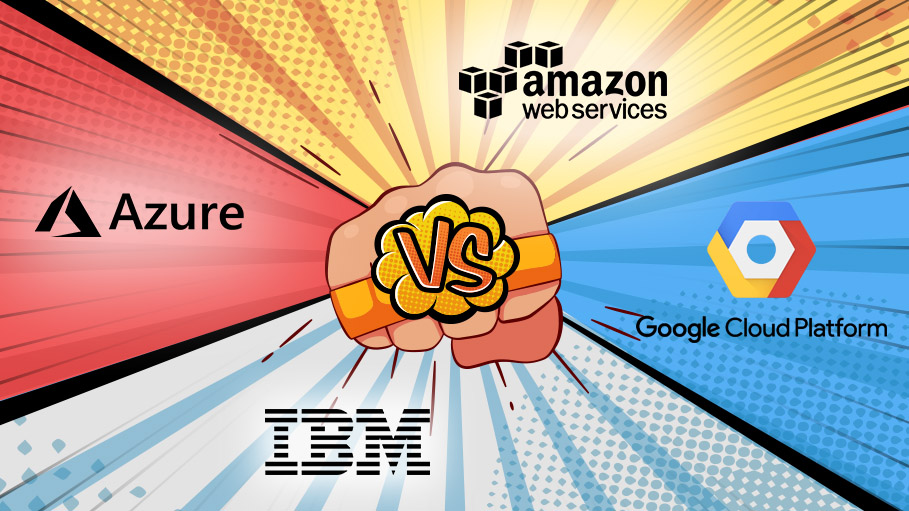 Cloud Computing has gained a lot of attention since the last decade with the launch of AWS (Amazon Cloud Server) in 2006. Since then, there has been a fundamental drift in how the software businesses are presenting their products & services to the end customers - SaaS (Software as a service), PaaS (Platform as a service), IaaS (infrastructure as a service) or Faas (Framework as a service) etc. As IT evolved, there is a massive shift in Computing business from CapEx to OpEx model in order to keep up with the modernization of technology.
While AWS is offering public cloud, Microsoft Azure (Launched in 2010) is targeting its existing and other enterprise clients with its focus on large scalable enterprise cloud solutions. IBM is using its Multi & Open Hybrid cloud strategy to upsell to its existing clients & enter newer accounts. Google (introduced in 2008) has a strong High-Performance Computing (HPC-Compute engine) offerings and with their recent Kubernetes clusters they are improving their cloud capabilities - data analytics, storage & cloud migration, to extend their reach. Microsoft's recent introduction of Cycle Computing, Cloudyn and Express Logic show their approach to strengthen their platform through multi verticalized solutions.
The year 2019 has been very exciting for the Cloud Computing market & it has witnessed a string of significant developments by the tech titans. IBM's acquisition of Red Hat to get into the open hybrid cloud is a clear indication that they are looking to catch up with the Titans like AWS, Microsoft's Azure and Google Cloud Platform. Until recently, Amazon was the undefeated king for a long time but now its dominance is being challenged by Microsoft & Google Cloud Computing Platforms.
Amazon reported AWS sales of $7.7 billion, compared to $5.44 billion at this time last year. Amazon's revenue grew 41% in the first quarter at this time last year, now that number is 49%.
While Amazon generates revenue from AWS separately, Microsoft has a more flexible "commercial cloud business" – which includes not only Azure, but Office 365, Dynamics 365, and other segments. Microsoft reported that the cloud business grew 41% in the first three months of 2019, to $9.6 billion.
Likewise, Google avoided specific revenue numbers for its cloud business yet again. Parent company Alphabet reported $36.34 billion in revenue for the quarter, up 17% from $31.15 billion for the same quarter last year. Google Cloud Platform revenue includes Google's "other" revenue category, alongside G Suite, Google Play, and other hardware. That category reported revenue of $5.45 billion for the quarter, up 25% from the same quarter last year when it was $4.25 billion.

Ultimately, it seems clear that in the war among AWS, Azure and Google Cloud market share – AWS still wins. In November, Goldman Sachs reports that AWS, Azure, Google Cloud, and Alibaba Cloud made up to 56% of the total cloud market, with growing to 84% this year. AWS is far in the lead with 47% of the total market projected for this year, with Azure and Google struggling at 22% and 8% market share, respectively.

Get our hottest stories delivered to your inbox.
Sign up for Scrabbl Newsletters to get personalized updates on top stories and viral hits.