Save Storage by Archiving Emails in Google Workspace
This article focuses on Google Workspace Archival features, their functions, benefits and advantages, available in Gmail Desktop Application as well as on Mobile applications. The mails that you wish not to delete or to refer in future can be stored using the Archival function.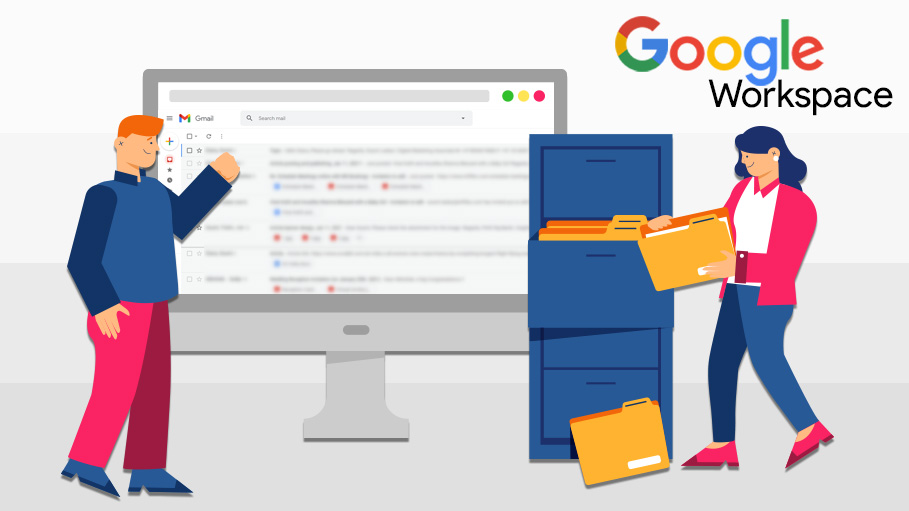 Google Workspace offers you a plethora of storage options to keep thousands of emails. There may have been some situations where you would like to keep the inbox as clean as possible or you would not like to keep some of the unimportant emails hence you "Delete" them. Whereas, in certain situations where you would like to keep some emails that would help you to refer in future, thus you use the "Archive" function, where you could refer to those emails in future.
Email archiving function is indeed a helpful & thoughtful feature from Google, through which users can use it according to their advantage. While Archiving emails in your Google workspace inbox by selecting the Archival function, it disappears from your inbox and goes to the "All Mail" label. Thus helping to keep your inbox clean without losing or deleting the required mail that you could refer to in future.
Similarities and Differences between Delete and Archival function are as follows:
Archive Emails through Gmail Desktop App:
For locating your Archived emails, you need to first click on the "More" link in the left hand side of the Gmail navigation.
Then click on the "All Mail" Label, you will be able to see all the archived emails at one place.
Filters can also be used to find the Archive emails. For example, in:all from:infiflex.com has:attachment
Archive emails through Gmail App:
To locate archived emails on your Android devices -> Open your Gmail application -> click on top left cabinet icon -> click All Mail label.
Deletion of Archival Mails:
If you wish to delete the archival mails, you can go to the "All Mail" label, select the email in bulk. select all options and then select delete button. Or else you could also select specific emails you wish to delete and select the delete button accordingly. You can also delete the emails using various Gmail filters.