Chromebook - That Makes Your Work Easier and Faster
Chromebooks are meant to make cloud professionals' job easier, faster and efficient. It is collaborated with the functionalities of G-Suite so that users can get the most out of it.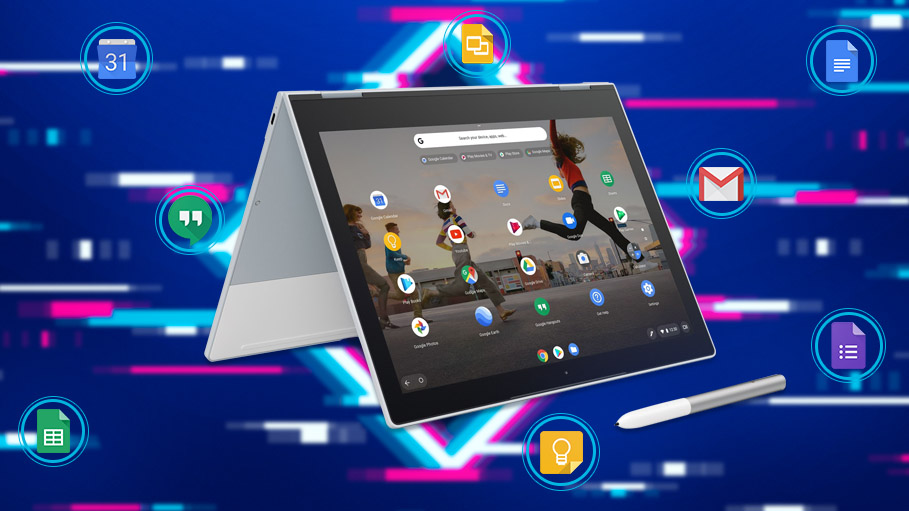 In pursuit of efficiency, effectiveness and excellence, the Google engineering team have spent a lot of time thinking about how to make work easier, simpler, faster and more organised for Cloud enthusiasts. This quest dragged them to build Chrome devices known as Chromebook. Here we will discuss a few functionalities that are dedicated to Chromebook to make your work convenient:
1.Master Keyboard Shortcuts:
We often use keyboard shortcuts in our daily work life, but it usually becomes difficult to remember them. Chromebook has made a way out that you will no longer have to depend on sticky notes when you have listed all shortcut keys. Chromebook provides a visual map of Chrome OS hotkey and Functions. You have to press "Ctrl + alt + ?" and all your shortcuts will be available on your screen.
2. Turn on Caps Lock:
With Chromebook on, you can toggle the caps lock key by simply pressing "Alt + (search key)". When there, you can utilise the caps lock option as per your own wish and as per your requirement. In Chromebook, you can change the functionalities of the case as per your requirement, and the devices are flexible to serve users' purposes.
3. Manage applications and tabs:
It is unmanageable to handle multiple tabs or Windows while using from Browser. There are few specialised actions in Chromebook which make handling systems and applications easier.
See all open Windows: Swipe up or down with three fingers to see all open Windows. If you have traditional scrolling turned on, swipe down and if you have Australian scolding turned on, then swipe up.
Move between pages: To go back to your previous page where you were working, Swipe left with two fingers. To go to the next page, you can swipe right with two fingers.
Switch between tabs: If you have multiple Browsers open, then you can simply swipe left and right with three fingers to be in between various tabs.


Open link in new tab: Point to the link and then tap or click with three fingers, the link will be open in a new tab.
Close tab: Point to the tab and then Tab 3 touchpad with three fingers.
4. Work offline:
Users can easily use Chromebooks in Offline mode. They can make the most use of G-Suite products as it supports offline mode. In order to make this work, kindly ensure that Gmail offline sync is enabled from Google Drive. Anything you edit offline Will update automatically, Once you are back online.

Get our hottest stories delivered to your inbox.
Sign up for Scrabbl Newsletters to get personalized updates on top stories and viral hits.