Success Story: Kiran Automobiles Pvt Ltd.
It helped me to understand Change Management i.e what are the difficulties faced while changing the existing platform and setup to a new one.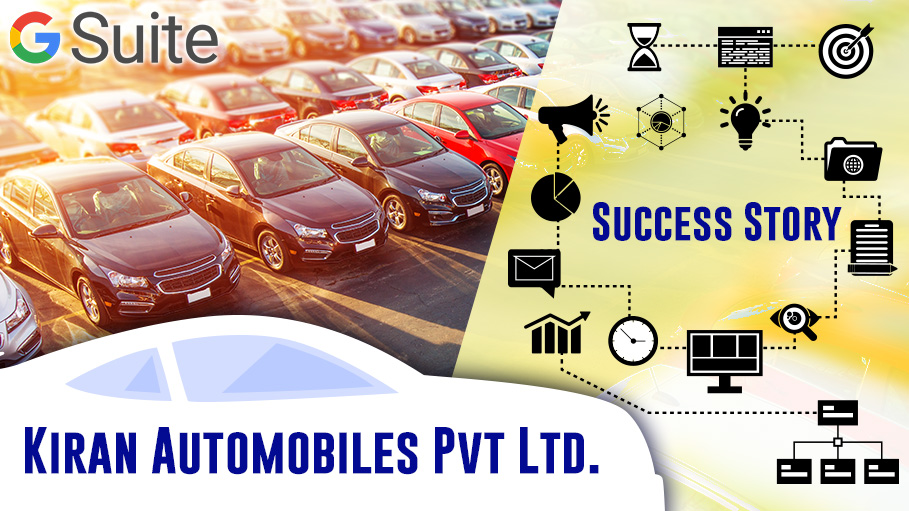 It all began with my regime at Infiflex as a Technical Sales Associate in the month of July 2018. After my initial training, I started to demand generation for Google Cloud services. I had gained experience in the automobile industry earlier, hence was quite confident about their workflow. I started working on this segment and Kiran Automobiles was one amongst them.
Initially, I connected with Mr Santosh ( HR Manager ) at Kiran Automobiles as the first point of contact. In our first conversation, Mr Santosh mentioned about the mail server that they were currently using for business emails, which served a number of users in the organization. On questioning about pain points, he shared the following difficulties that the users were facing in the current services:
Less storage space, for which users had to delete the emails in order to get the newer ones.

Improper administrative level management.

Lack of enterprise-level security
All the aforesaid concerns and difficulties had a solution in G Suite. Mr Santosh described his workflow and the difficulties he used to face in managing all the users from one place along with some technical features regarding the security. I explained to him the detailed product features and capabilities over the call as well as share the related documents through email.
In the month of August, Mr Santosh mentioned that the Decision maker was going out for a few days and further discussions regarding the implementation as well as pricing of G Suite Basic services got delayed.
By the Mid of September, Mr Santosh gave a positive response from his management side and asked to share the proposal from our side. The proposal was shared by my Senior Mr Ashish Manjul. Meanwhile, I kept in touch with the client and through follow-up, discussions gained their confidence in our services and G Suite capabilities.


Finally, in the first week of October 2018, we got the Purchase Order from Kiran Automobiles for G Suite Basic. They wanted Infiflex to be their G Suite Vendor. In this way, within 3 months we were able to close this deal. Today, we count Kiran Automobiles as one of our prized customers and strive to provide our best of services. In Mr Santosh's words, "It was a very wise decision to migrate our mailing system to G Suite. Our employees are happy with the product and Infiflex as our vendor. We have said goodbye to all our old mailing issues".
Get our hottest stories delivered to your inbox.
Sign up for Scrabbl Newsletters to get personalized updates on top stories and viral hits.