Route your Emails in G Suite with Default Routing
With Default Routing we can set domain routing policy for any inbound messages. We can set up Split Delivery for routing the unregistered G Suite User as well.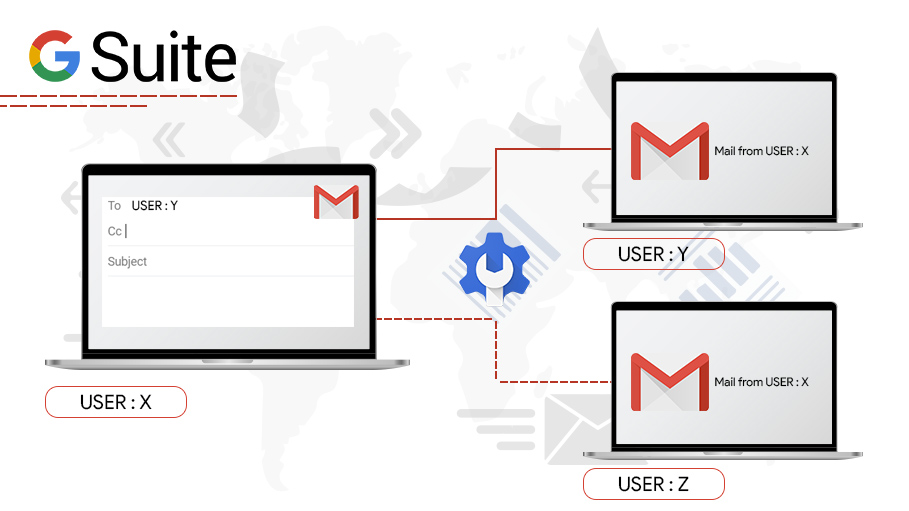 In G Suite we can set up a domain routing policy for inbound messages using Default routing.
For example, Default routing is used to set up split delivery to route unregistered G Suite users to the on-premises mail server. This is useful when transferring the users from a legacy mail server to Gmail. You can also appoint an existing user account as a catch-all address to receive messages that are addressed to non-existent users in your domain using Default Routing.
To set up routing settings, specify the recipient addresses, and then specify an action to perform on mail intended for those recipients. If any organization configures multiple routing settings, they can arrange the compliance in order of priority. Default routing takes lower priority than other advanced Gmail settings, such as Content compliance or Attachment compliance.
To Configure a default routing setting for a domain, follow the steps:
Log on to Google Admin Console, URL: admin.google.com.

From the Admin console Home page, go to Apps> G Suite> mail> Advanced settings.

Click on Default routing.

Click on Add setting.

From the list, select the recipients to match:
Single recipient—Specify a single user by entering an email address, example abc@infiflex.com

Pattern match—Enter a regular expression to specify a couple of recipients in your domain.

Group Membership—Select from one or more groups from the list.

All recipients—Select all recipients in your domain. By default, this only affects unrecognized addresses.
If the envelope recipient matches the above, do the following, specify the rule whether the message should be rejected, modified, or quarantined when the conditions meet the routing setting.
Reject message: This option rejects the message before it reaches the deliberate recipient. You can enter customized text for the rejection message.
Modify Message: This option modifies messages by adding headers, changing the route, changing the envelope recipient, adding more recipients and removing attachments.
Select the Options, choose whether to perform the action only on unrecognized addresses. You can also select both recognized and unrecognized addresses.
Click on Save.
Ordering your routing settings:
The Default routing tab lets you configure multiple routing settings for your domain. Each Routing setting specifies a recipient and an action to perform on any mail intended for the recipients.
In any particular domain, admin can configure a maximum of 1000 Default Routing settings.
In the Default Routing page, there is a list of settings. To adjust a setting, click Edit. To delete the setting, highlight the checkbox in the left column, and click Delete. You can also adjust the priority of the settings on this page. If two settings conflict, G Suite applies the setting with a higher priority and ignores the lower-priority conflicting setting. However, any particular settings that specify Reject are automatically assigned to the highest priority, even if you have assigned a higher priority number to another setting.
To assign the highest priority to a routing setting, in the Order column, enter 1 next to the setting.

Click anywhere on the Default routing page to save the changes.

Repeat these steps for assigning any other priority numbers.
Get our hottest stories delivered to your inbox.
Sign up for Scrabbl Newsletters to get personalized updates on top stories and viral hits.