Power Your Business with the Top 12 New G Suite Benefits
Google Next 2019 had many announcements on new features and capabilities in G Suite. We analyse this massive list for you that will make a huge difference for your business.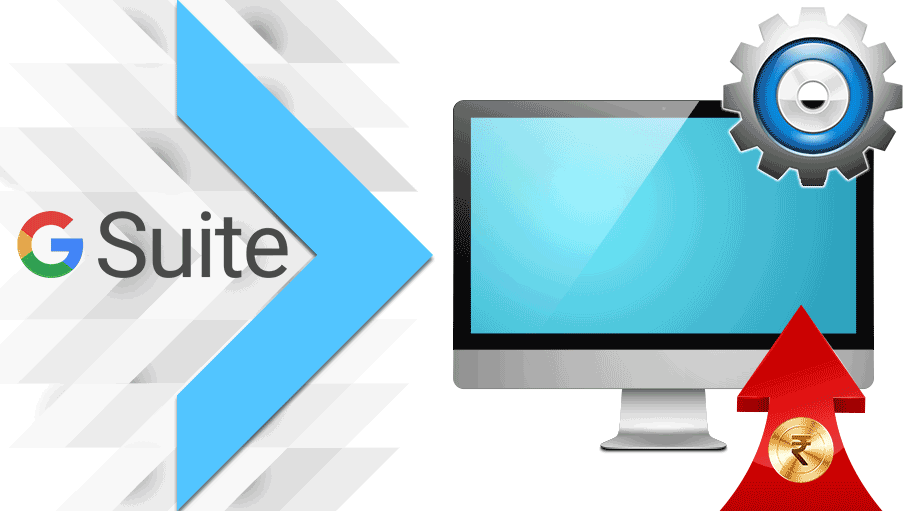 1) Huge improvements to Hangouts Meet
Hangouts Meet is already a very powerful meeting tool which is fully integrated with the G Suite app. Automatic live captions ensure that you can follow along in a noisy room and makes it much easier for meeting participants who require accessibility features to use Hangouts Meet.
Earlier it was just Hangout but now it has become chat and meet. Also, up to 250 participants will be able to join your Meet soon, making it even more ideal for webinars and other applications that may require high attendance limits
2) Dropbox integration with G Suite
Dropbox Business customers can now create, save and share G Suite files right from Dropbox, without having to open G Suite. This new integration also allows for saving G Suite files to most file formats, including Office files, not only G Suite file formats.
3) Work on Office files within G Suite
User's who have worked with documents know, the old way of doing business with G Suite and Microsoft Office files was to open the document in the preferable app (Docs, Sheets, or Slides) and then save it as the MS Office version of the file type in order to send it back to the client. This gawky way of handling Office files is gone.
Now the user can simply open any Office file type in G Suite, work on it with all of the extra tools that Google has to offer, and save it again as an Office file so you can send it back to your client in a format they can use. This is probably one of the biggest pieces of news to come out of Google Next 2019 and will make a huge difference in the workdays of all G Suite users.
4) More secure Gmail with MTA-STS standard
MTA-STS is a new security protocol which requires good encryption and authentication checks for an email in transit. This will be of interest to any business in the healthcare or financial sectors which requires extra layers of security, and will also keep any business using Gmail more secure. Gmail is now enforcing this protocol, where it was optional for admins earlier. IT administrators can check the security center for recommendations from Google on how to enforce MTA-STS policies.
5) Copy a large website in Google Sites
In case you don't have a backup solution for your company's website, G Suite can actually handle that for you with Google Sites. A recent update to the site copying features, makes it possible to copy larger websites of up to 5 terabytes.
6) Work on huge amounts of BigQuery data with connected Google Sheets (Beta)
With the new Google Sheets data connector, you can work on up to 10 billion rows of BigQuery data without the need for SQL scripts, making the entire process much more user-friendly and accessible for staff without SQL experience.
7) Important bug squash: avoid double-booking rooms in Calendar
Google Calendar will save last-minute scurrying when you've double-booked a room, and additional emails prior to the meeting to ensure that your colleagues haven't booked the room.
8) Visitor sharing in Google Drive (Beta)
While it is easy to share files, recipients of the files are usually asked for Gmail account to share it with. With visitor sharing, you will be able to share files and collaborate on them without the need for the person on the other end to have a Gmail account. This will reduce client confusion and get you collaborating more quickly and easily.
9) G Suite Enterprise: Shared investigations, more in Security Center (Beta)
Shared investigations allow admins to share their investigations with the security investigation tool. Rule automation is also a very important feature that can assign tasks to specific admins or staff without a human needing to curate the process.
10) Better reports in Google Sheets
The additional features just announced for Google Sheets may convert some of the last Excel holdouts at your company which use Excel for reports. Now you can cut and paste images from anywhere into your Sheet, select multiple objects to work with them, and you can place pivot tables into custom locations on Sheets.
11) More phishing and malware protection for GSuite
A large percentage of cyber risk at any company starts with the lack of proper knowledge on the usage of mails by their staff. Attackers and hackers can extract personal information such as logins and secret information through phishing emails. It also allows malware to be installed on compromised computers and devices. Because phishing is such a threat, Gmail introduced a number of protections against it in 2018. Now, G Suite admins have access to advanced phishing and malware protection through the Security Center so that they can protect their confidential data from Phishers.
12) Google Drive metadata (Beta)
Searching for a document in Google Drive is very easy; all you have to do is remember a word or phrase that was in it, and you get results in seconds. Google Drive metadata allows administrators and other staff to enter metadata and create taxonomies in Google Drive, making searching files even easier than it was before.
Get our hottest stories delivered to your inbox.
Sign up for Scrabbl Newsletters to get personalized updates on top stories and viral hits.