Comparison between Google Backup - Sync and Drive File Stream
Backup & Sync and Drive File Stream serves the purpose of syncing the data and files between the Google Drive and local computer in a different way so one should use it as required.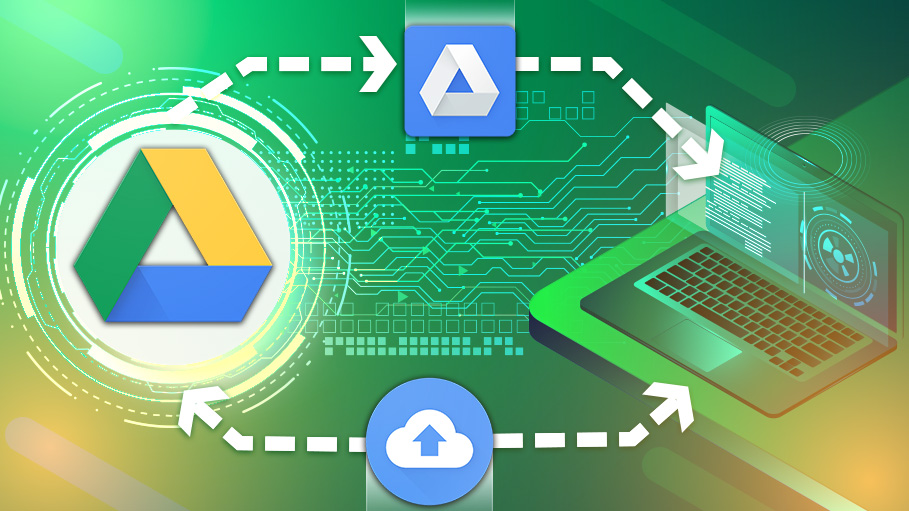 Syncing data and files between Google Drive and your computer can be done with the help of two apps -
Backup and Sync.

Drive File Stream.
Note - Before using the apps with your Google account for your organisation, you need prior permission from your administrator and that can be given by allowing some settings from the G Suite Admin Console part.
In IT, the process of backing up refers to the copying of the data and storing it in an archive file in order to restore the data in case of any data failure. Sync is the short form for synchronizing. The literal meaning of Synchronize is to let a set of data or files to remain identical in more than one location. So when we sync one device with another ( suppose your cell phone with your PC ), we get access to the data stored on one device from the other one. The term stream refers to the transfer of the data over the internet as a steady and continuous flow. That is the data or files are transferred from one device to the other.
So it is clear from the literal meaning of the terms that what functions they perform. Now let's see that what are the technical specifications that are needed to be performed while setting up Backup-Sync App and Data File Stream App on our PC and what are the differences among them.
Backup - Sync App
It is used to store and sync drive content locally on your computer. In order to use the app, we first need to download and install it on different Operating Systems. More or less the procedure is the same just the installation file format is different. For installing on Windows and Mac OS, please refer to the below steps -
Click on Download Backup and Sync on your computer.

Go through the terms of service and click on Agree and Download.
| | |
| --- | --- |
| For Mac | For Windows |
| 3. After it is downloaded, open installbackupandsync.dmg | 3. After it is downloaded, open installbackupandsync.exe |
| 4. Move this application to the application folder and then open it. A message will be displayed" Backup and Sync is an application downloaded from the Internet", click on ok and open. | 4. A message will be displayed asking you to allow the application to do changes to your computer, click on yes and the computer will restart. |
| 5. Then provide your Google account credentials to sign in. | 5. Sign with your Google account credentials. |
| 6. Choose the sync settings and then click on next. | 6. Choose the sync settings and click on next. |
Drive File Stream
Drive file stream is used to stream ( transfer ) all data and files from the cloud to the local computer. In order to use it, we need to know which OS support the installation of Drive File Stream.
Windows: Edition 7 and up. ( Windows server editions do not support).

Mac: EI Capitan (10.11) and up.
You have to also use a supported browser with the cookies and javascript turned on from the settings. The supported browsers are - Chrome, Firefox, Internet Explorer 11, Microsoft Edge, Safari. Now download the Drive File Stream .exe file and deploy it.
1.For Windows - Download GoogleDriveFSSetup.exe
For Mac - Download GoogleDriveFileStream.dmg
2. Run the installer in the silent mode.
3. Uninstall Backup & Sync in your Organisation(Recommended).
4. Delete the Google Drive folder but make sure to sync the items before deleting it.
Get our hottest stories delivered to your inbox.
Sign up for Scrabbl Newsletters to get personalized updates on top stories and viral hits.