Now Schedule Office Activities Easily with Google Calendar
New Schedule feature allows more efficient and time-saving activities while creating an event, appointment, reminders, tasks etc. It helps in enhancing employee productivity for the Organization which directly helps in business growth.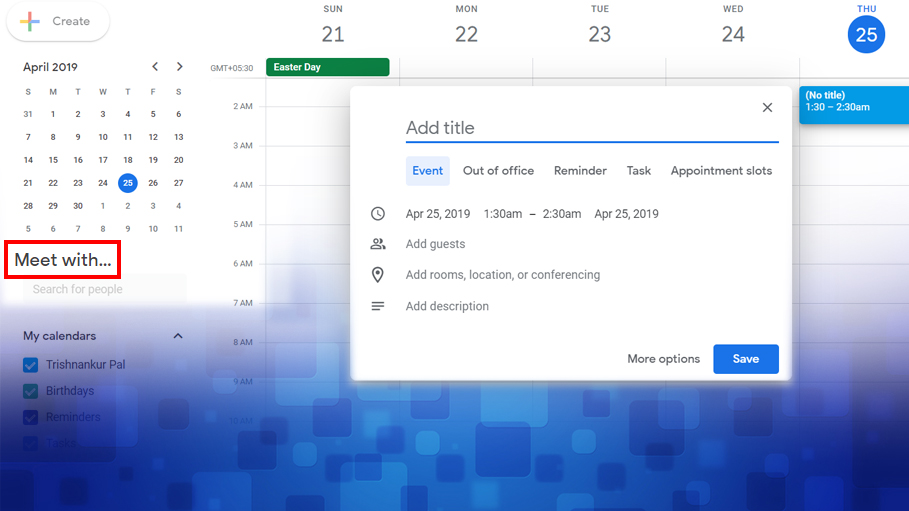 Google Calendar helps in time-management and scheduling daily activities. It has always been an integral part of Office productivity suite as it helps in scheduling Events, Meetings, Tasks, etc. It helps in reducing the effort of remembering every single detail when it comes to organize and invite guests based on the events you create.
Google Calendar provides the option of creating a totally customized event.
The customization includes:
Start and Stop time,

Recurring functionality,

Location for the event, to name a few.
Till date, when the organizer needs to create and customize an Event, he or she usually gets redirected to a new page where the customization is done. This process is of course, efficient but it is still time-consuming as there is no shortcut to customise an Event.
Now, Google has come up with a new update which will add the feature of customization through the shortcut.
So what's new in the Scheduling feature of Google Calendar?
Google has introduced the feature of adding rooms, a location of the meeting, video conferencing and meeting description without getting into "More options."
The updated creation flow of meetings in Google Calendar has the following changes in place:
Automatically adding Guests while looking at the Calendar- You can add guests from the "Search for people" box on the left side of the Calendar option as Google provides access to view the calendar of the co-workers(if kept open for all). Then while creating the Event, those people who were selected gets automatically added to the Event.
Customizable options in the Creation pop-up dialogue: Options like Room selection, Meeting description, Video Conferencing and few others will get loaded as soon as the Guests are added.
Add co-workers from Search for People
The Creation Pop-up Dialog after adding Guest
Customizable options in the Creation Pop-up dialogue
The Update has rolled out on the 16th of April 2019 for Rapid Release Domains and will roll out on the 29th of April 2019 for Scheduled Release Domains. It will be available for all G Suite editions and it will affect the End users. There is no specific role of Admins in this case as it will by default get activated from Google's end.