Migrate from IBM Lotus Notes / NSF File to M365 with Transend Migrator
Migration from IBM Lotus notes/NSF local file is becoming a challenge these days.Usually IBM server IMAP does not connect properly with the M365 server migration tool and the results cause data loss during the migration.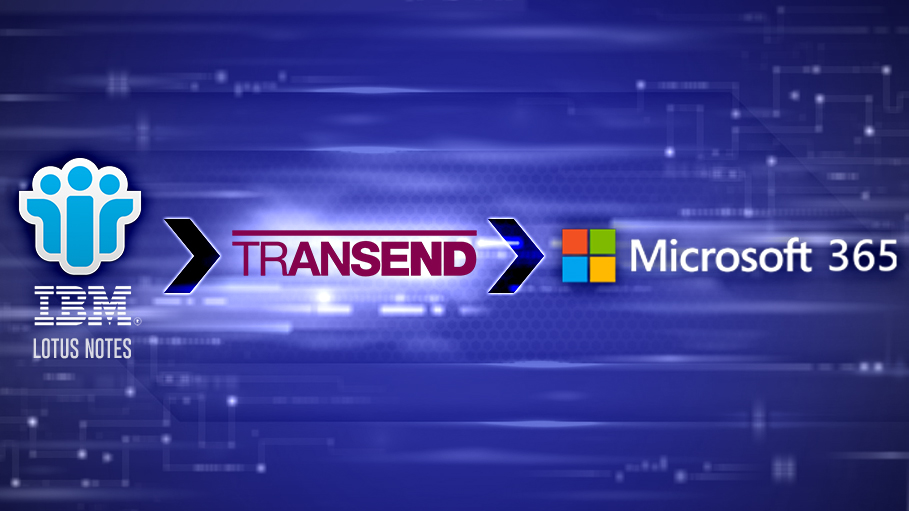 The Transend Tool is a great solution for migrating IBM lotus/NSF local files.
It comes with a user basis license.
In this article we will discuss the setup process and the parameters that need to be set for better migration experience.
First you need to purchase the tool and Transend team will provide the license key.
Download the Transend Tool.
Verify with the provided license key.
Now set up the tool for the user account. Note that the User account needs to be configured in IBM notes or you can use the NSF file directly for the migration.
Note:
The PC needs to have lotus note, without which the transcend tool will not work

The NSF file needs to be unencrypted from the local

Need to have the IBM notes user id and password (which can be different from IBM verse web login)
Starting with the Transend Tool:
Click the dropdown for Notes and this will populate the user's Notes name

Enter the location of the NSF file

Enter the user password

Enter the M365 email address

Enter the M365 password

Click Copy Configuration Button to copy this info to Address Book, Calendar and Tasks

Click Start Single migration
The following options are enabled:
This is deduping, when running on the end user machine then this creates a file called c:\ProgramData\Transend\migrate.dat which tracks what has been migrated for this user

With this setting pointed at c:\ProgramData\Transend\migrate.dat then you must use these settings on the users workstation without using the $Vars variables

Deduping Criteria (/D56 BSDNRFHU)

Migrate Unique Items (/DEDUP c:\ProgramData\Transend\migrate101.dat)

Deduping File Writes (/D165)

Maximum Stall Seconds (/MAXSTALL 100000)

Recurring Calendar Entries (/D127)
M365 has attachment limits 35 MB per attachment and 150 MB per email, Transend will detach the attachments that cannot be migrated to c:\ProgramData\Transend

Max Attachment Size (/MAX ATTACH SIZE 35000)

Max Message Size (/MAXMSGSIZE 150000)

Detach Attachments (/DETACH c:\ProgramData\Transend)
Log Files (/LFILES)

Log Subjects (/LSUB)

Debug Logging (/DEBUG)
Allow Calendar Invitees (/D211)
Appointments (/D138)

Show Private (/SHOWPRIVATE)
Click on folders and select choose from the source. You might need the IBM notes password if prompted.
Click on the Strat Migration now.
Note Transend is Internet-dependent and Platform dependent.
Do not switch off the PC or Internet connection in between the migration.