Know More about Google Drive Enterprise Billing
Drive Enterprise is a valuable service, even if your organization is not keen on using G Suite apps. Payments are calculated in USD. So depending on the conversion rate, the payment might vary from monthly, even if your active users and storage remain the same.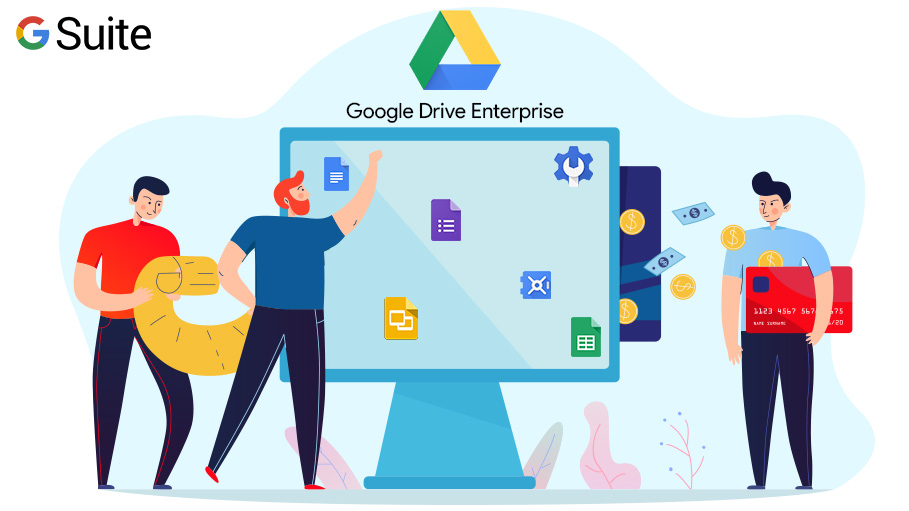 Drive Enterprise gives the benefit of using the functionality of Google Drive without having to use the other G Suite applications. To know more about what Drive Enterprise is and what features you get, you can read on.
Now, when you sign up for Google Drive Enterprise, you won't be charged right away. Instead, the first 14 days are free and you can cancel at any time. However, if you are signing up for G Suite through a Google Premier Partner, you may also go for the sign-up of Drive Enterprise from them as well for commercial benefits.
Once the trial for Drive Enterprise ends, here's how you'll be charged in order to continue the services.
Billing Rates:
Monthly payments start once the free trial period ends. You pay for the total number of active users in your domain for that month, plus the total amount of Drive storage used across your whole organization.
The detailed costing structure includes-
USD 8 per active user. You pay the full USD 8 for any active user in a month, even if that user completes only one charged activity at any span of time during that month.

You also pay the full USD 8 for any active user if your subscription doesn't cover an entire month—for example, if it is cancelled in the middle of the month.

USD 0.04 per GB of storage used per month which is determined by Google, tracking the amount of storage in MB for each hour of the month.
To be more specific, as more storage is used, for example, if a file is uploaded in the middle of the month, the storage used up increases in MBs. At the end of the month, the storage is added up for each hour and then it is divided by the total number of hours in the month. It is then converted to GB (called a GB-month) and accordingly billed at USD 0.04 per GB-month.
Active Users:
An active user is a user who performs at least one charged activity in Drive at least one time during a month.
The Charged activities include, but aren't strictly limited to:
Viewing, opening, printing, or previewing any Drive file

Downloading any Drive file

Changing Drive contents which include:

Uploading files

Creating, copying, renaming, removing, or moving files

Adding files to My Drive

Sharing Drive files or changing sharing permissions

Managing membership for a shared drive

Syncing files that have changed
However, the charges for the active user applies to the person doing something with a Drive file, not the file's owner. But, if a non-owner updates a file, the owner is also charged as an active user when the file syncs.
Some of the user actions are included in the Active User charge. These uncharged activities are:
Browsing activity:

User browsing, searching, sorting, or filtering files without charges

They can look at the View details panel as well as see who a file is shared with

Syncing files that haven't changed

Changing Drive settings

Accessing files by users outside of your domain
Monthly Storage:
The storage usage charge is the total GB of Drive content for all the users in your organization.
The files which are included in the storage count:
All non-Google files, such as photos, videos, audio files, PDFs, and Microsoft Office files, including non-Google Docs editor files in shared drives

Files in users' Trash

Files owned by suspended users

Files on hold in Google Vault.
Files excluded from the storage count:
Drive folders

Google Docs, Google Sheets, Google Slides, Google Forms, Google Sites, and My Maps.
Reducing Users and Cancellation:
If you want to modify your Drive Enterprise users or subscription, the billing rules will depend on your customer type and the action you take which include.
Removing a User's License:
Once the Drive enterprise license is removed from a user, it will be charged USD 8/month if the user is qualified to be "Active User". If the same user has any storage that qualifies for the monthly storage charge, unless you delete the storage, you continue to be charged for it even after you remove the user's Drive Enterprise license.

Deleting a User:
If a Drive Enterprise user in a given month is deleted and the user had any activity that qualifies them as an active user for the month, you're billed USD 8 for that user for the given month.

Removing a User from a Team:
If you remove an active user from a team in a given month, you're billed USD 8 for that user for the month.

Cancelling Drive Enterprise:
If the Drive Enterprise subscription is cancelled in a given month, you're charged USD 8 per active user in that month. You're also charged a prorated storage charge for all accumulated storage up to the date of cancellation. No additional user or storage charge after that.