Microsoft Teams vs Zoom
At many levels Microsoft Teams and Zoom compete with each other. In the current situation, digital workplace requires a high end collaboration and communication application which can provide the basic needs along with app integration feature with Enterprise level protection.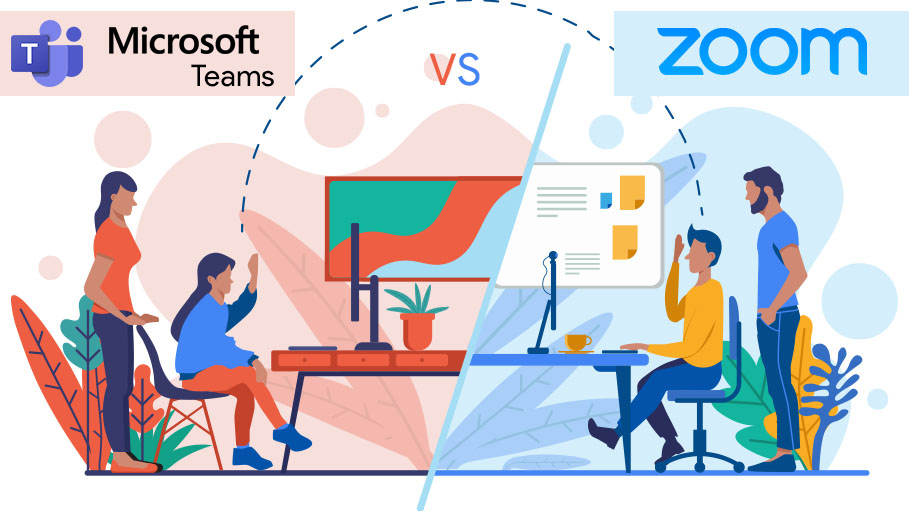 In the wake of the apocalyptic outbreak, many organizations have been forced to institute quarantine, lockdowns, and work from home. This has increased the usage of video-based chat applications and services across the globe. The world has gone digital and in this situation, the race to deliver the best in market application to fulfill the needs like in-person visits and organizing conferences in the virtual world is at its peak.
Many companies have many products for the same whereas two of the most popular choices are Microsoft Teams and Zoom. Either for a brainstorming session with coworkers or attending classes for the semester, these two video chat and conference apps are fighting for the top position.
Microsoft Teams
Any organization with a subscription of Microsoft Office 365, will have access to Teams. This is currently the world's number one video and chat-based application of the OEM replacing Skype (for Business). Microsoft Teams allows us to talk directly to any specific members or even in group channels.
Zoom
Zoom video application is a single product of the OEM Zoom Video Communications Inc which rapidly came to the light. It is easy and free to sign up in Zoom as it requires either a Google or Facebook id.
Features
Although for the recent security issues that have come up in limelight, privacy experts have shown concern over the video conference software privacy risk and hacking vulnerability and also zoo bombing (where uninvited attendees can break into and disrupt meetings). The New York City Department of Education recently revealed that the school teachers are asked to switch from Zoom to Microsoft Teams while the security threats are being addressed by the company.
There are many ways in which one can increase the security of the zoom meetings. Keeping the hurdles aside, both Microsoft Teams and Zoom have their own pros and in no doubt one of the best applications to use for the organization while working from home.