Impact of Cloud Computing on Business
An entire Business Revolution is possible with the help of Cloud Environment because it gives endless flexibility and removes unwanted risk and headache. Infiflex accepts the challenge to incorporate Cloud services in the business by providing optimum solutions on GCP, AWS, and Microsoft Azure.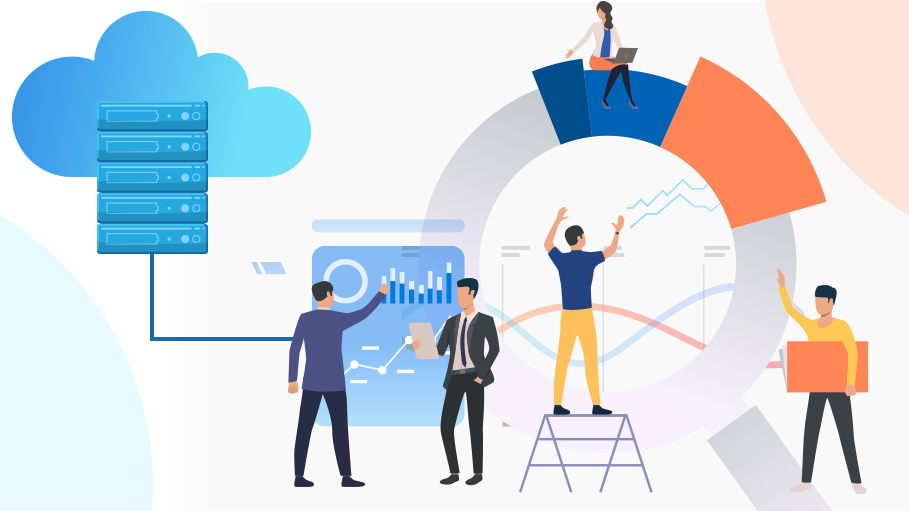 Cloud Computing uplifts organizations in terms of technology by their IaaS, PaaS & SaaS models. Migrating to the cloud is not only beneficial in the short run, but in longer aspects as well. This is because the cloud services can be managed from anywhere at any point of time with very little manual intervention. In Addition, it makes workload distribution very easy.
In the current scenario, the business process & dynamics have changed in a manner that cannot be overlooked if the organization wants to reach business goals. Following "Lift & Shift" architecture, infrastructure or applications are effectively lifted from their existing on-premises to a new cloud hosting platform in a managed way.
There are a few business management modules mentioned, which can have a great impact on the running cloud environment:
Human Resource Process- The Main objective of cloud computing in the HR process is to secure information. With the help of Cloud Technology, the repositories become flawlessly organized and the storage & retrieval of massive & lower stack administration documents become effortless. Recruitment Process becomes very easy in a cloud environment as One single application can run a lengthy recruitment & documentation process in an organized manner. Cloud technology can eliminate the heavy workload created by paperwork, as Information is stored on the cloud & that can be retrieved any time anywhere by the authorized users.
Planning & Budgeting Method- Cloud computing has a great potential for cost savings with minimal risk. Taking the cost & manageability of the cloud into consideration, organizations can scale up very quickly to achieve their organizational goals.
Many large scale industries have already seen benefits in the Disaster recovery capacity of the cloud. CTO/ CEO of an organization finds it beneficial to make Disaster Recovery in the cloud over on-premises, as an operational expense. Through various case studies prove that Overall TCO Becomes 20-40% with the help of clouds in the long run.
Operational Process Flow Management- Business means growth & innovation. Top 5 business strategies are delivering business solutions, improving management & governance, improving the IT dept. & workforce, reducing IT cost & Consolidating IT operations & resources. Cloud computing offers scalability & reliability, which has the ability to help businesses achieve all their objectives. Consequently, this increases productivity, an organization's market share & customer satisfaction.
An ITIL compliant Cloud SaaS model can be used to assist all ITIL services, starting from operational processes like incident & delivery management to the fulfillment of transitional processes like change & knowledge management. Cloud technology can automate provisioning across the full stack, increasing delivery & operational efficiency and therefore it improves overall business performance.
Security & Risk Management- Basic Risk & Security parameters are data security, privacy laws, data location, business resilience, regulatory compliance, etc. To secure Business, the cloud provides end to end data security with almost 0% chance of losing data. Cloud is fully aligned to deliver value to the business and minimize vulnerability in terms of risk. Active participation & engagement of the leadership team or relevant risk governance committees are essential prerequisites for the success of cloud programs.
Based on the impacts mentioned above, we can say that cloud computing makes business technology-oriented & helps extract maximum benefits in terms of operational, transactional and financial segments.
In 2020, there are Top 5 Cloud Computing suppliers; Google Cloud Platform (GCP), Amazon Web Services (AWS), Microsoft Azure, IBM, Salesforce, who have made the Global market IT Driven & technology worthy. Among all the major players, I can say that Google Cloud Platform is very user friendly & trustworthy in terms of security, analytics, Database management. Its open-source architecture makes it easy to implement.