G Suite's Smart Vacation Responder
Gone are the days when you used to think of the list of emails unanswered because you were enjoying your vacation without internet. If you happen to have a G Suite account for emails, turn on the Vacation Responder and enjoy the vacation wholeheartedly.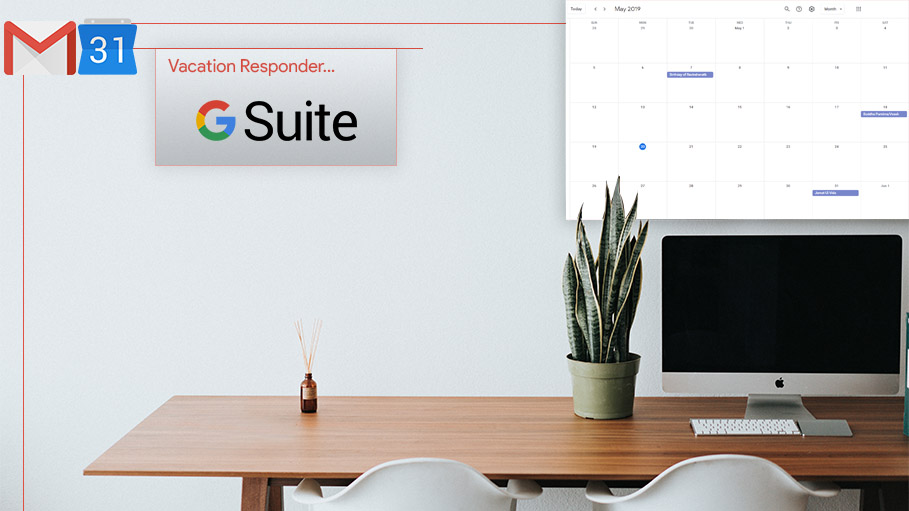 What comes to your mind whenever you hear the word "Vacation"? Definitely a plan for a long break from the daily personal as well as professional responsibilities, and the associated stress.
Google has enhanced Gmail with the ever-evolving corporate-life. In fact, the app is getting smarter and smoother day by day. Throughout the world a huge number of people use Gmail as the primary communication platform for staying in touch via the exchange of emails anytime, anywhere, using any device.
Vacation Responder in Gmail is now making it more easy to let people reach you and know about your vacation from daily busy life schedule. It automatically replies to people available in the address book of yours. So you don't need to worry if you are unable to reply due to lack of internet access or because of some other reasons. Auto-responder helps you out in this case. It is now even more easy to restrict automatic replies to any occasional spam and newsletters by filtering.
The steps below will guide you through as to how you can set-up a Vacation Responder within few minutes and be free of headaches for the rest of your "vacation".
Let's follow the steps to proceed further :
Log in to your Gmail ID

Go to settings from the menu bar

Open the General tab

Mark the vacation responder on

Type the subject line
(6) Enter the First-day date and the Last day date of your vacation.
(7) Write the body as per your objective. If you want the sender to contact with someone else other than you in your absence, you can provide the concerned person's contact details as per their convenience. Or else, you can simply tell them to wait for you till you return to work.
(8) Once you are done with the body, tick-untick the boxes below according to your decision as to whom you want to send these automated responses to-
People in your contacts or,

People only from your organization
Once all these steps are done, click SAVE CHANGES, and you are good to go.
When you are over with your vacation, just go back to previous General settings tab like before and turn OFF the vacation responder from the END NOW link.
There are few points which you need to keep in my mind while you're setting up the responder.
The responder begins at 12:00 AM on the first day and ends at 11:59 PM on the last day unless you end it before the scheduled ending.

The sender who already has got your "on-vacation" response will again get it after 4days of interval.

If you have multiple Gmail accounts, you need to set up the responder individually as it won't sync automatically.
Hope this article provides enough information to get started with Vacation-responder and make life a little easier on the go.