Full-Screen Video Conferencing on Jamboard
Jamboard is a collaborative whiteboard you can use to create and edit content with other users. With Jamboard, remote collaboration, video conferencing, and presenting content is seamless.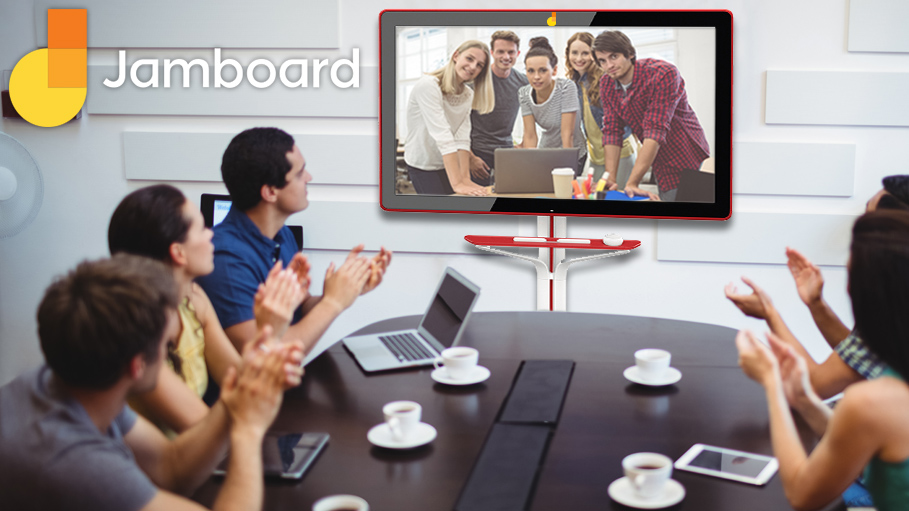 Starting April 2019, Jamboard integrates more closely with Hangouts Meet. It gains support for fullscreen video conferencing and becomes an even better companion to Hangouts Meet Hardware in meeting rooms. So how do you benefit as a Google customer?
Customers will be able to configure the board to use full-screen video conferencing on Jamboard, a much eagerly awaited functionality.

Customers can use the Jamboard as a standalone video conferencing solution. This feature update allows users to use basic video conferencing functionality while remote whiteboarding.
Notify customer admins to enable the setting in admin console or configure their board into the appropriate setting before June 30. Starting June 30, all boards will automatically update to have the full-screen video conferencing functionality ON by default.
Timeline:
April 30 - Feature launch default OFF - Admins must configure the setting in the admin console to get the update.

June 30 - Admins who have made no selection will get an automatic upgrade.
What does it do?
Admins must first enable this feature in admin console and then assign a room calendar to the board
1. Join or Start a Full-screen Video Conferencing Call
2. Seamlessly Transition Between Meeting and Whiteboarding
3. Present Your Jam Into a Meeting
4. Continue with Full-Screen Jamming While on a Call
When to use full-screen VC on Jamboard?
1. In small collaboration & brainstorming spaces (2 - 4 people)
2. For rooms requiring basic VC with emphasis on remote collaboration
When to Pair to a Hangouts Meet Hardware Device?
1. In larger meeting rooms (6+ people)
2. For rooms requiring VC and whiteboarding
3. Primary use case: video conferencing
This Upgrade is an improvement to the current VC experience on Jamboard. A good fit for new spaces that don't have any video conferencing devices. Great for team spaces, huddle spaces, soft seating areas. A tool to facilitate remote meetings, standups, and brainstorming sessions.
Guideline
1. Collaboration spaces
2. Rooms of 2-4 people Boards in open spaces need audio peripherals
Supportive Peripherals
USB camera
1. Logitech MeetUp Conference Cam (preferred)
2. Logitech PTZ Pro
3. Logitech Conferencecam Connect
4. Logitech Conferencecam CC3000e
5. Logitech Webcam C930e
6. Huddly GO
USB speaker mic combos
1. Hangouts Meet speaker mic (preferred)
2. Logitech MeetUp Conference Cam (preferred)
3. Konftel Ego
4. Jabra Speak 410
5. Jabra 810
Google has implemented limited Hangouts Meet remote control support. Users can join, mute, and end video calls using this remote.
Get our hottest stories delivered to your inbox.
Sign up for Scrabbl Newsletters to get personalized updates on top stories and viral hits.