What Should Your Business Opt for - On-Premise Server or Cloud Infrastructure?
It's a tough decision to choose between On-premise server setup and cloud infrastructure that will impact your business regularly. Read over the upsides and downsides of each server solution and you'll be equipped with the information you need to make this important decision.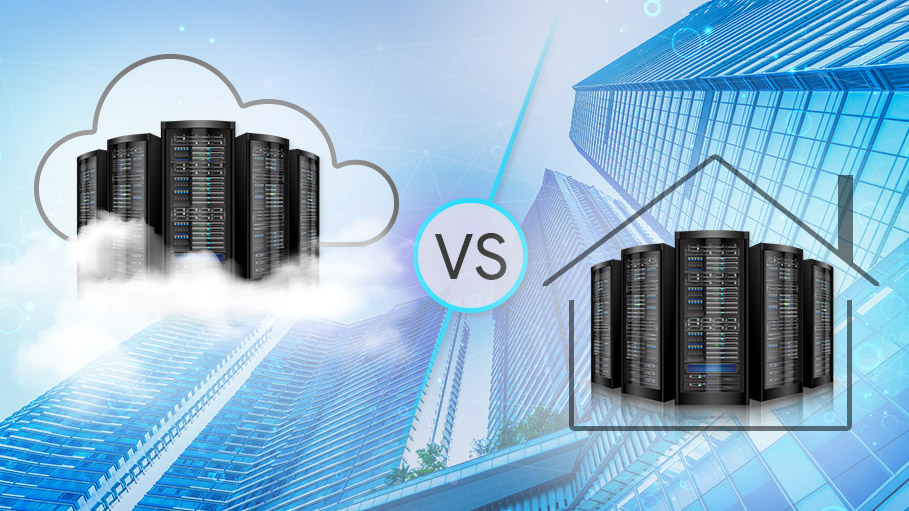 When it comes to choosing the right solution for your business, the hardest choice is whether to have a cloud-based or an on-premise server framework. While it might seem like an uphill task, encompassed with several pitfalls, there are numerous interesting points. The main factor is how essential uptime is to your business. Cloud arrangements are typically more expensive than in-house, however, the advantages of being in the cloud can far exceed the budgetary constraints for a few organizations. For instance, an online business that is dependent on electronic exchanges will look at uptime as a critical factor; in this way, they will probably pay more for a cloud-based arrangement that can ensure a specific dimension of uptime. Different organizations not as subject to uptime might be progressively suited to an in-house setup.
Here are a few upsides and downsides of cloud versus on-premise servers.
On-premise Server
Pros:
Gives you physical control over your backup.

No compelling reason to depend on an Internet association for access to data.

Keeps basic information in-house. No outsider approaches your information.

Can be more financially effective for small to midsize companies.
Cons:
Requires a capital interest in equipment and framework.

Maybe more vulnerable to data loss amid catastrophic circumstances because of its in-house area. How regularly you take the information off-site will reflect how much information you'll lose in a crisis.

Needs space in your office for a rack or server room/storage room, notwithstanding committed IT bolster.

No uptime or recuperation time is ensured.

Need to hire resources to maintain a dedicated IT team for managing the in-house infrastructure.
Cloud Server
Pros:
No requirement for onsite hardware or capital costs. Appropriate to smaller organizations that may exceed capacity too quickly.

Reinforcement and reestablishment can be started from anyplace, utilizing any PC, tablet, or smartphone.

Information can be upheld in the cloud as frequently as 15-minute interims, limiting data loss in catastrophic circumstances.

Capacity can be included as required. Arrangements are regularly on-request, so you can scale up and pay for what you need.
Cons:
The expenses of the information recovery could exceed the advantages for organizations that are not as subject to uptime and instant recovery

If the Internet goes down on your side or on your cloud supplier's side, you won't approach any of your data.

Full information recovery could demonstrate exceptionally tedious and impactful on frameworks.
As should be obvious, there are numerous upsides and downsides of every setup. So What are your thoughts? Will you go the traditional route and use the on-premise server or subscribe to a cloud server? Choose the correct one as per your Business needs and budget.
In case you want a call back from any of our cloud experts, drop a mail to gcp@infiflex.com.