Schedule Meetings Online with MS Booking
Microsoft Bookings is an online scheduling tool that is part of Office 365 select Plans. This online service simplifies the method of setting and managing appointments with customers. It enables you to make your organization's meetings virtual with online meetings via Microsoft Teams.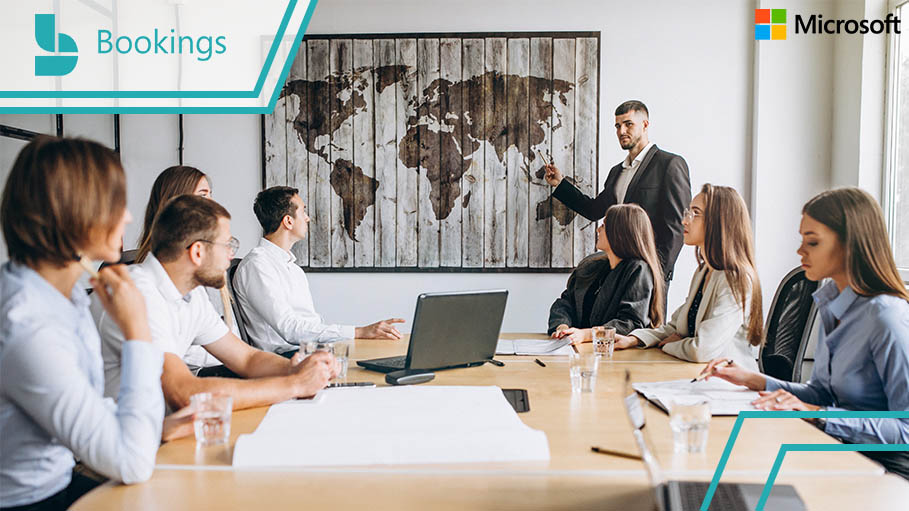 It's ideal for businesses like medical offices, law firms, consultants, advisors, auto shops, hair salons, or anyone who provides services on a meeting basis. Customers can set appointments themselves as well.
Bookings has 3 primary components:
Customers can schedule appointments with specific staff members via an online Booking page. This page is often used as a stand-alone page or embedded in your website and works on desktop and mobile devices.

An online backend panel where people can view and manage appointments, set a staff list and schedules, specify services and pricing, record customer preferences, and customize how the service works.

A mobile app you'll use to look at and manage bookings. You can access customer information from anywhere.
Why use MS Bookings:
Put an End to Phone Tag - It's easier for customers to view available times online and book the slot that's most convenient for them. Beneficiaries who prefer to call can do so, and you can enter their information manually. Either way, confirmations are sent immediately and automatically.
Offer Self-service Rescheduling and Cancellations - It's easy for customers to change or cancel an appointment. They just need to click the link contained in the appointment confirmation email.
Manage Bookings on the Go - With the Bookings mobile app, one can add or view appointments and access or change staff and scheduling information when they're away from the office.
Features of Booking:
Real-time appointment availability

Outlook calendar integration including automatic updates

Automated email confirmations and reminders

Appointment rescheduling and cancellations

Integration with Microsoft Teams

A total of 120 days of appointment history inclusive of 60 days past & 60 days future.

Unique appointment scheduling web page

Appointment reassignment between staff members
How it Works
Booking appointments are often made two different ways: customers can schedule a meeting themselves using the web booking page or staff can manually enter appointments to form a meeting .
The customer first selects the service they need. Then, based on the supply schedule created, they will choose each day/time and enter their contact information to book the appointment for which an email confirmation notice will be sent which contains details of the appointment and a link for directions. It also includes a link the customer can use to vary or cancel the appointment.
At an equivalent time, the date is automatically added to staff's calendar. Bookings work with Outlook calendar and Google calendar, so customers won't see linked business calendars; they'll only see the Bookings calendar that is published online.