Implementing Compliances from Google's Admin Console
G Suite Admin Console precisely lays out restrictions and offers privileges to the users of an organization.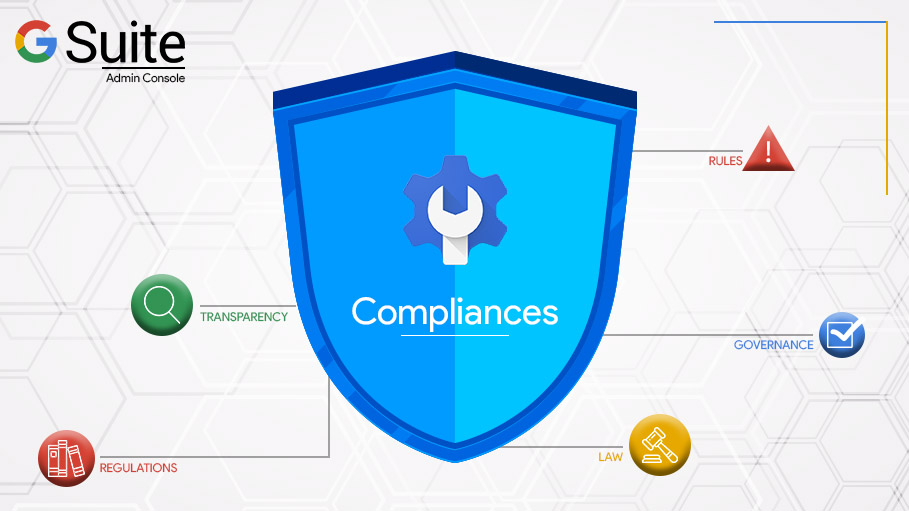 When it comes to business and corporate governance, a proper abidance refers to the organisation to function in accordance with ethical rules and enterprise-level best practices. Enforcing regulations in an organization fortifies the personnel to abide by a particular protocol and the usual business processes.
While granting an amenity to an email server in a corporation, precisely ensures the security features and facilities to prevent its chronicles. With such prerequisites, G Suite congruously strikes the chord.
In G Suite as an Administrator, you are facilitated to lay out some restrictions and privileges for the users under the mail server via Admin Console, following some simple steps.
Creating Compliances based on Content:
To spurn an outbound mail, which consists of deniable content, or if it belongs to a certain range of IP address, then setting up content compliances is the solution. Being an admin you get an opportunity to reject, quarantine or deliver your emails after correction.
To set up this facility you need to follow certain steps.
Go to Apps >> G Suite>> Gmail>> Advanced setting. Select content compliance, and after that Configure. Make sure to choose the boxes adjacent to the messages to apply the regulation. Thereafter, you can add content that specifically would be searched.
It also allows you to set up advanced content matched location to specify whether to quarantine or modify a message.
Govern Chat and Email storage :
In the admin console, one gets an opportunity to catalogue the time span for the stored messages of the users.
To lay out this, you need to follow the below steps,
Go to Apps >> G Suite>> Gmail>> Advanced setting. Thereafter select your domain and click on "Email and chat auto deletion" for setting up the rules. You can select automatic or manual deletion option. Moreover, the deleted messages either could be sent to the trash folder or would be deleted permanently.
Creating footer of emails for the Company:
The footer is added in the outbound emails below the mail body for particular requirements of the organisation which has a limitation of text.
To set up such footer one should do the following:
Go to Apps >> G Suite>> Gmail>> Advanced setting. Then click on Append footer and go to Configure. After setting up the footer Click on Save.
Set up a warning for specific recipients:
In this case, being an administrator you can restrict users not to connect with a certain range of recipients. Users get a notification regarding this in case such compliance is enabled.
To set up this facility you need to follow the below steps,
Go to Apps >> G Suite>> Gmail>> Advanced setting. Then select the proper organisational unit and select "Unite external reply warning". You can activate the function from there and thereafter must click on "Save".
The vast functionality of the Google Admin Console includes a lot more privileged settings regarding the IP lock, email traffic and a lot more. Altogether, the features in Admin Console empowers an organization to adhere to its policies thereby making G Suite a secure and powerful collaboration platform.