Google Big Data Analytics
Google Big Data Analytics enables you to benefit from serverless, integrated, and end-to-end data analytics services that surpass conventional limitations on scale, performance, availability, security, compliance and cost efficiency.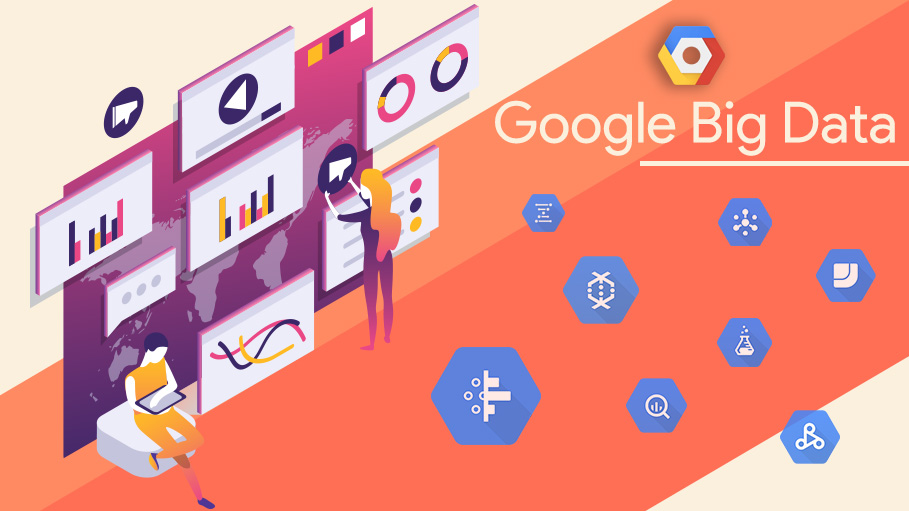 Big data analytics helps corporates to examine the most complex process of large data sets or big data to uncover important and sensitive information which includes hidden patterns, unknown correlations, including customer preferences. The powerful analytics services accelerate the time to insights which help the organization to make important decisions. Big data analytics is an ingenious form of advanced analytics, which involves very complex applications with elements:
1) Predictive Models
2) Statistical Algorithms
3) Highly Transactional Data
The importance of big data analytics:
Big data Driven by specialized analytics systems and software, & high-powered computing systems, big data analytics offers various business benefits example :
New revenue opportunities

Effective marketing

Better customer service

Operational efficiency

Big data analytics applications enable big data analysts, predictive modelers, statisticians and other analytics professionals to analyze
Google Big data Analytics:
Google Cloud Platforms's fully managed and serverless approach removes operational overhead by handling the big data analytics solutions
1) Performance
2) Scalability
3) Availability
4) Security
5) compliance
Now you only need to focus on analysis instead of managing servers with innovative, customer-friendly pricing, where you have to pay only for the resources you are using.
Development without compromising:
Data Analysis Tools on Google Cloud Platform
BigQuery: You can analyze gigabytes to petabytes of data using ANSI SQL at a very high speed that provides APIs (Application Program Interface ) for easy integration with other applications. The developers can create an analytics application in familiar programming languages like
1) Java, 2) Python, 3) C#, 4) Go, 5) Node.js, 6) PHP, 7) Ruby.
Cloud Pub /Sub: You can ingest millions of events per second from everywhere (you can publish it everywhere) in the world via an open API (Application Program Interface )
Cloud dataflow: Cloud dataflow enables faster streaming and batch data pipeline development without compromising the accuracy
Cloud Dataprep: Cloud Dataprep is an intelligent data service which is basically used for visual exploring, cleaning, and preparing structured as well as unstructured data for analysis purpose, reporting, and machine learning. Cloud Dataprep is serverless and does not require any scaling or infrastructure to deploy or manage.