G Suite VS RediffmailPro as a Mailing Solution
G Suite and Rediffmailpro are both mailing solutions applied to increase productivity and efficiency of the members in an organization. Rediffmailpro is a useful tool for Small-to-Medium Sized Businesses whereas G Suite is a robust, globally available platform and is used for all businesses.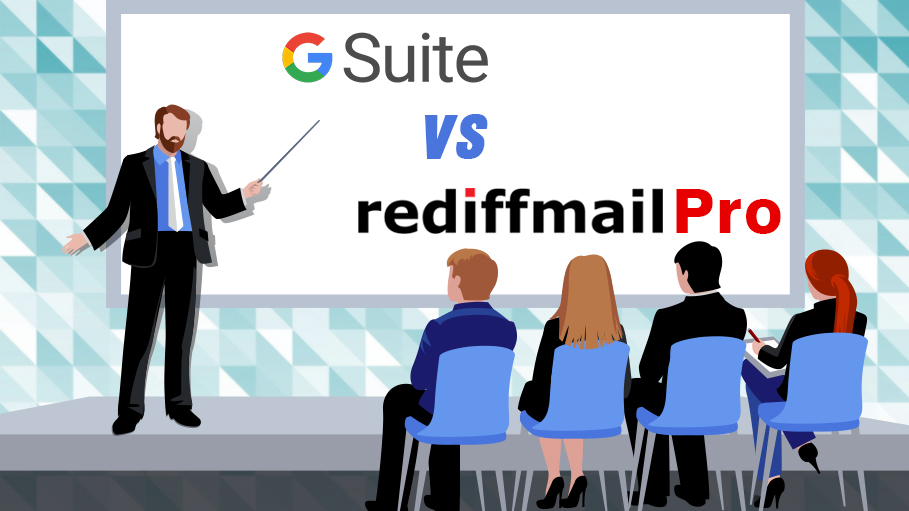 Google Apps for Work or Google Apps for Your Domain, renamed as G Suite, ushered in a new era of Communication and Collaboration among the members of an organization. In essence, it helped to push the boundaries of productivity and efficiency beyond anyone's imagination and for the past decade supported the growth of many companies, helping them to achieve global reach in terms of business. G Suite is the office productivity-enhancing solution, which is recommended due to its user-friendliness in communication, through Hangout meet and Hangout chat along with Gmail. Google took the phrase, There's no 'I' in 'team', and integrated to a wide array of tools like Docs, Sheets, Slides, Forms, Sites, etc for the purpose of collaboration, which is the backbone for the growth, development and prosperity of any company.
Rediffmail Pro offers an affordable cloud-based email solution for small and medium-size companies, with powerful admin controls, dedicated technical support and features like access across operating systems like Android, Windows, iOS and BlackBerry.
In this article, we will be focusing on the various aspects of Rediffmailpro as a mailing solution as well as G Suite and see how they compete with each other in real life.
Point of Difference

G Suite

Rediffmail Pro

Space Provided

30 GB(for Basic) Including Google Drive.

5 GB(For Standard).

Attachable File Space

25 MB.

10 MB.

Real Time Communication

2000 Internal Recipient

500 External Recipient.

Hangout Chat.

Hangout Meet.

Availability of intra Domain Chat feature.

Migration

Easily Done to and from G Suite.

Only if compatible with Rediffmail

MDM Service

Yes.

No.

Mobility and Sync

Yes.

Yes.

Uptime

99.9%.

99%.

Admin Console

G Suite Admin.

Robust Admin.

Disaster Recovery System

Yes.

No.

Cloud Platform

Google Cloud.

NA.

Socializing

Administrators can enable the Google+ feature to enhance social connection between business professionals.

NA.

Real time Collaboration

Docs, Sheet, Sites, Slides, and forms.

NA.

Availability Third Party tools

Yes (for Admin and Users).

No.

Support availability

Local + International.

International only.

SLA

Yes.

No.

Certifications

ISO 27001,FISMA,SSAE 16/SAE 3402 Type II,SAS 70.

NA.

Flexibility

Yes.

Yes.

Customizability

Yes.

Yes.

Costing

INR 2,520 /User /Year (For Basic).

INR 8,568 /User /Year (For Business).

INR 19,800 /User /Year (For Enterprise).

INR 270 /User/Year (For Standard).

INR 510 /User /Year (For Most Popular).

INR 850 /User /Year (For Advance).
By looking at the above table, although Rediffmail is very economical in the face of the Goliath, G Suite beats Rediffmailpro by a mile.
Get our hottest stories delivered to your inbox.
Sign up for Scrabbl Newsletters to get personalized updates on top stories and viral hits.