G Suite Made Business Communication more Simple Synchronising with VoIP Phone
Connecting communication and productivity platforms — phone system and G Suite, in this case — is ultimately about improving convenience and saving time.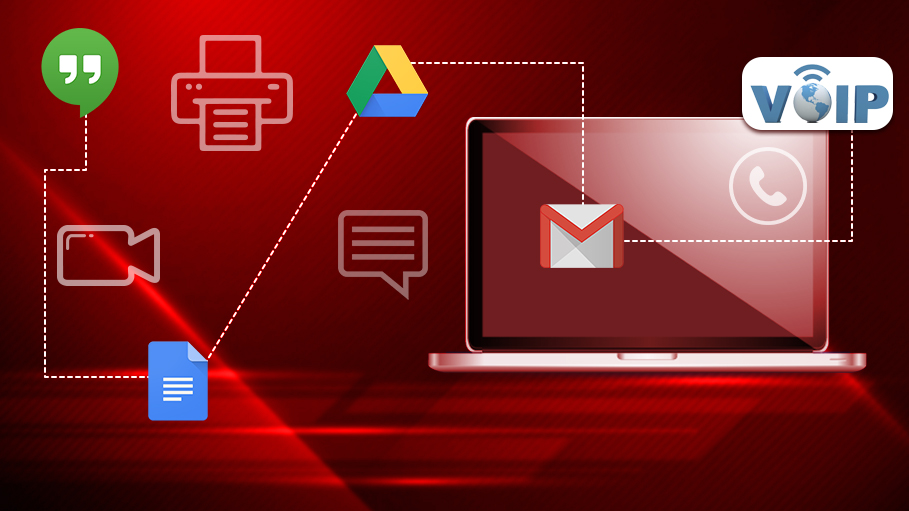 What is VoIP
VoIP is transmitting voice and media packets over Internet Protocol (IP), such as the Internet. Examples are IP telephony, Internet telephony, broadband telephony, and broadband phone service. It allows computer users and businesses to make telephone calls from a desktop computer equipped with a VoIP phone.
Now you can sync your business phone system into the G Suite applications. VoIP phones for Google provide advanced business communications capabilities that operate seamlessly across G Suite applications.
Business Communications and Applications were Made for Each Other
"We've grown accustomed to applications and communications tools.
We now spontaneously accept email and calendar as one application, so why not the same for phone, fax, voice, SMS, etc"
Email and phone have generally been utilized as stand-alone applications, separated by a device wall. With the move from on-premise systems to cloud applications, consolidating these applications adds tremendous value to the end-user.
By integrating applications like G Suite with VoIP phone, fax, and text into one consolidated interface, all employees are able to access everything they need.
Powerful Capabilities
VoIP phone system integrations are built from the network up, providing reliability, fewer delays, and enhanced quality of service for your G Suite tasks.
Call Logging with Click‑to‑Call
Easily initiate calls from Gmail, Google Contacts and Google Hangouts or any browser window with click-to-dial.
Reporting
We can collect the logs of phone calls by a single click (Employee, phone number, date, time and duration for all inbound and outbound calls)
Contact Sync
Automatically identify phone numbers associated with your Google contacts, quickly add new contacts to your Google account, and add missing information to your contact database.
Incoming/Outbound Screen Pops
Incoming screen pops that display caller details from your Google Contacts and quickly access call activity noting window.
Calendar Sync
Schedule and manage video and audio meetings easily on your Google Calendar with integrated Vonage Conferencing and collaboration tools.
Add Follow-up Google Tasks
Facilely schedule follow-up actions in Google Tasks or Google Calendar.
Gmail Call Noting and Labeling
Spontaneously log all of your incoming and outgoing calls. Label and associate call in Gmail with a Google contact, date and time, duration and add a note.
Recommended VoIP Phone System for GSuite:
Vonage Business, 8x8, Nextiva, Ring Central, Jive Communications are some VoIP phone systems that currently sync with "Google" cloud programs such as Gmail, Google Calendar, Google Hangouts and more!
Under G Suite recommended partner the RingCentral VoIP system experience integrated into Google Cloud is seamless, intuitive, and fast. Work more productively and efficiently by keeping in touch via calls, SMS, and audio or video conferences.


How it works
Google Chrome/Click-to-Dial
Dial numbers manually using the VoIP Phone dial pad, or click to dial any number in your Chrome browser.
Calendar
Schedule and join meetings in Google Calendar.