Classic Google Sites Getting Replaced by the New Google Sites
The New Google Sites is the new face for the Classic Google Sites with additional unique and better features.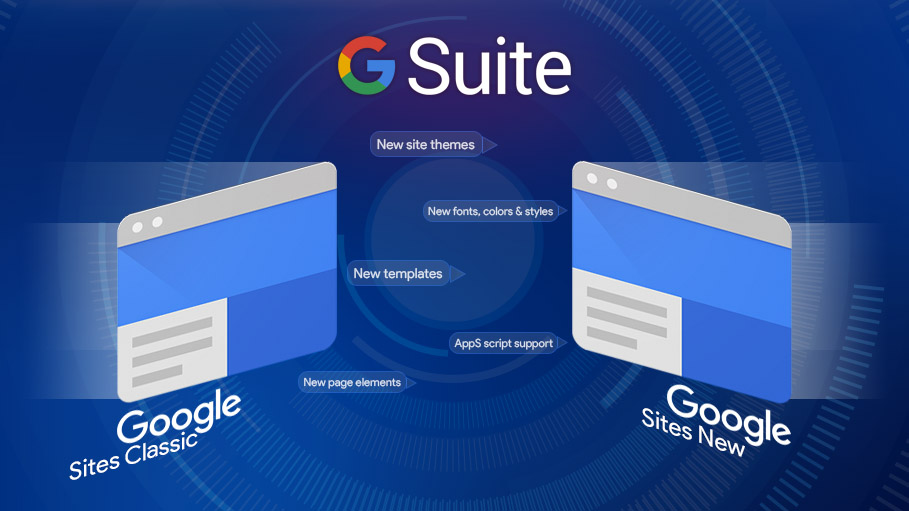 These days the usage of Google Sites is extensive and widespread. The aim of a Google Site is to allow its users to easily create Websites which allows collaboration as well with the other editors editing the document.
So basically Google Sites is an application which is a part of Google's G Suite that has been optimized for business & collaboration.
Now it is redesigned with the existing features of the Classic Google Sites as well as some additional features have been added after extensive feedback from the users and now it is...


New Google Sites... The Classic Google Sites redesigned!!!
To build more enterprise-focused features is the main aim of the new Sites. The new Sites include the features of the Classic Sites as they are a valuable part of the large organizations, as well as new and unique features, have been added.
As informed by Google the old Classic Sites will be frequently prevalent until the end of 2021 as it still caters important and valuable features to the existing enterprise customers so Google will continue investing in it.
How to make more customized sites:
New site themes so the sites can match the rich company look, brand and feel.

Greater choice of fonts, colors & styles for more improved text controls.

Common types of sites can be created from Standard templates from Google (such as team sites, project sites, and events sites).

Custom templates are provided for simple access to a starter website that can be made specific to a domain.

Embedding content in Sites with better integration with other G Suite products.

Appscript support has been introduced to automate and manage sites new API capabilities.

New page elements, like tables of contents and image carousels have been provided.
How to manage larger Sites:
Additional functionality and controls are added to help create and manage larger sites.

Larger sites can be build as size limits are increased

Version history gives the ability to see what's changed between the previously published version and the current draft of a site, so more informed publishing decisions can be made.

More comprehensive search from within a site.

Google Vault support for content from new Sites.
The new Sites has a simpler interface allowing any user to create Sites easily including product, team and event sites and currently it is available to the organizations and also for the existing customers of G Suite can convert to new Sites from classic Sites by using the automatic Site converter.

Get our hottest stories delivered to your inbox.
Sign up for Scrabbl Newsletters to get personalized updates on top stories and viral hits.