Admin Assistant Checklist
Admin assistant help G suite Admins through the critical steps of getting the setup done and becoming productive with G Suite. This will help Admins to onboard more end users seamlessly.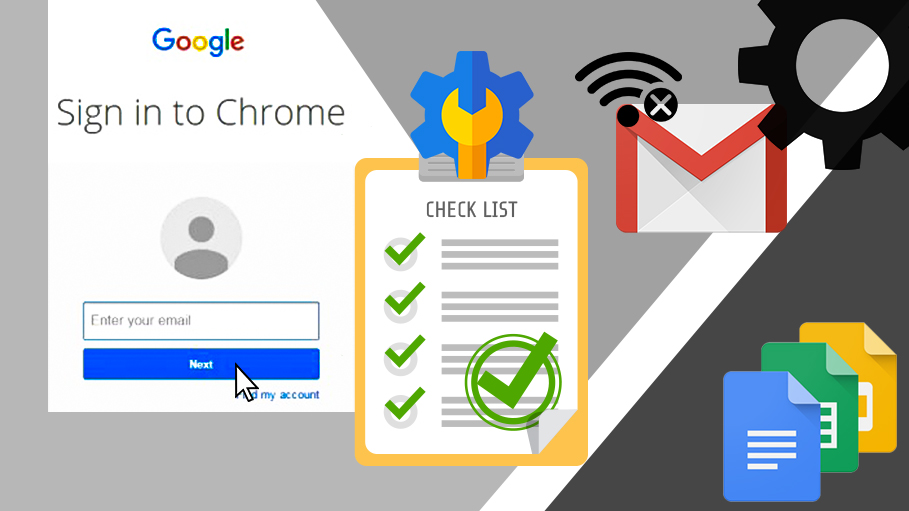 This checklist is designed to help G suite Admins through the critical steps of getting a setup done and becoming productive with G Suite.
Browser Setup
1. Sign into Chrome browser.
(Optional) Setup a second personal profile or show how to use incognito mode to access personal Gmail accounts
2. Default Mail and Calendar tabs on startup.
3. Install Chrome apps: Gmail Offline, Drive, Docs, Sheets, Slides.
4. Review managed bookmarks: firm templates, end-user training site, support site, etc.
Gmail Overview
We need to Log into Gmail (Optional) review authentication flow for SSO and 2-Factor if necessary.
2.Setup inbox and turn on important settings
Setup mail signatures
How to set a vacation responder

Setup Undo Send and select the longest interval

Turn on keyboard shortcuts

Helpful labs (optional): Right-side chat, Canned Responses, Custom keyboard shortcuts, Preview Pane, Unread message icon.
Review basic navigation components
Compose, Labels, Archive, Trash, Chat, Settings

Search basics and Advanced Search

Address differences from Sort and how to replicate wit "from:<name>" operator)
Confirm mail delegation request
Note: Manager(s) will need to grant access in the Account section of Settings

Review how to toggle between personal and delegated profiles and send mail on behalf of the manager
Walk through productivity tips
Calendar Overview
Setup the calendar and turn on important settings
Set a current timezone in Settings

(Optional) set a secondary time zone for those who travel often

Set the default view (e.g. to Week)

Set default notifications for primary calendar to pop-up at 10 min AND 1 min prior to meeting start (this mitigates not having a snooze option)

(Optional) Enable World Clock lab for those who travel often

Set gentle notifications tab

How to schedule a meeting with Hangouts included

How to add guests and reserve a room

How to look up free/busy

How to add a note to a response

How to mark a guest as optional

How to set an all-day meeting

How to repeat a meeting

Show how to toggle between calendars

Show how to toggle calendars on/off
Create a custom team calendar (e.g. staff vacation calendar)
Drive Overview
Show how to navigate to Drive and each of the editors (e.g. Drive.google.com, Docs.google.com or with the checkerboard icon)
Turn on Offline Sync option
(Optional) Install and configure the Drive Sync client
(Optional) Change Drive view to list view (default starts at grid view which)
(Optional) Add corporate shared templates folder to My Drive to demonstrate how to add to Drive
Collaboration Walkthrough
Add files to Drive from Gmail or from inside a document (folder icon next to title)

Add file/folder to Drive (e.g. corporate shared templates)

Create a document (e.g. Project Status or whatever they frequently create in legacy product

Share a document

Add a comment

Find revision history

Save as MS document or PDF
Get our hottest stories delivered to your inbox.
Sign up for Scrabbl Newsletters to get personalized updates on top stories and viral hits.