12 Reasons why G Suite over Consumer Gmail for your Business
With Gmail's user friendly interface and Google's boosted security and administrative control, G Suite will prove to be beneficial for the organization on a large scale who are looking for corporate emails for official communication.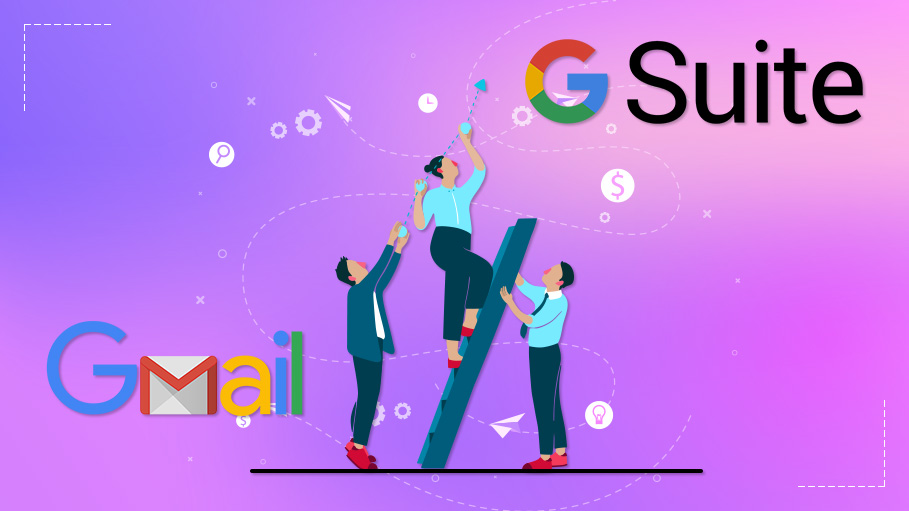 You may be owning a business and using free Gmail accounts for communication. Your company email addresses might appear to be like these:
employee2@gmail.com
Your employees might even be using various Yahoo Mail and webmail email addresses for business functions. However, your business is growing and you wish to begin to use a lot of skilled email addresses such as:
where you replace <companyname.com> with the domain name you have booked for your company website.
Did you recognize that you will simply get business email addresses like the aforesaid ones, however still enjoy precisely the same Gmail user expertise that you and your employees may have become accustomed to?
The email app in G Suite is just a business version of Gmail. No coaching is required for current Gmail users. You may or may not be absolutely aware of the extent of your free Gmail account practicality — however, your Gmail accounts embrace Google Calendar, Google Drive, Google Docs, Google Sheets, Google Slides, Google Forms, Google Drawings, Google Maps and Google Sites.
G Suite includes business versions of all of those and a lot more.
G Suite will come at a cost: $6 per user per month for the basic version.
If you already own a website like companyname.com for your web site address — that you just got from a supplier like GoDaddy, Network Solutions or Register.com — there's a simple one-time setup required to use a constant domain for your G Suite email addresses.
Additional G Suite features:
Here are 12 reasons to contemplate a move to G Suite.
1. Admin Console: The Google Admin console is a single place to manage and monitor all of your G Suite services. Use it to form users, manage Billing, put up mobile device management and compliances, and many more.
2. Email Account possession
Your company owns all employee email accounts. Your employees don't own them. What if an employee leaves your company suddenly? Employees in person own the email address that your customers use to contact them and hence every company email ID is important for your business.
Within G Suite administration, if somebody leaves the corporate, you'll immediately be able to reset the concerned email password and forward any emails sent from the address to another designated email ID.
3. File possession
With G Suite, all Google Docs, Slides and Sheets created by employees are also owned by the corporate.
Keep in mind that Google Drive is additionally a cloud backup solution different from services like Dropbox. You'll produce a corporate policy that needs employees to copy their native laptop work folders and files to the company's Google Drive.
If, as an example, you made the choice to terminate an employee, you'd have full access to any or all of their business files.
4. Document Sharing with Advanced Security
It's easier to share documents with your team once the entire organization is on G Suite. As an example, if you wished to provide all employees view-only access or comment only or edit access to any Google Docs/sheets/slides, that may be accomplished with simply a number of clicks from the administrator level.
5. Group Email IDs
You can easily route emails sent to a variety of address of multiple folks or to a client service system like Salesforce.
There's no extra price for making cluster email addresses. Also, you'll be able to add as many IDs as you wish.
6. Multiple Email Aliases
For any G Suite user, multiple email aliases are often created. Here are some examples:
It will be easier to verbally tell somebody that your email address is john@companyname.com , even supposing your card reads john.abbott@companyname.com .
There will even be multiple domains related to every user's email account. If you opt to rebrand your company to "Company Name Tech" and you get the domain comanynametech.com, you'll track this domain onto your G Suite account as a website alias. Whether or not an email is sent to john@companyname.com or jabbott@companynametech.com , it'll head to the same inbox.
7. More File Storage Space
The default storage for complimentary Gmail accounts is 15GB. For G Suite Basic, it's 30GB per user. There are a variety of choices for increasing storage on the far side of 30GB per user. G Suite Business includes Team Drive, which supplies the business a great deal of body management over file sharing with unlimited storage.
8. Additional Security With 2-Step Verification & employee ID
G Suite has a vital layer of security that may be implemented for all users if the admin decides to implement. This layer is known as 2-Step Verification. If you log into G Suite from an unknown pc, you'll be sent a verification code. For the days you're out of vary on your mobile phone, you'll carry a collection of backup codes in your wallet in order that you'll firmly access your G Suite account.
2-Step Verification is especially vital if you opt to use Google Drive because of the cloud backup solution for company PCs. If employees are mechanically backing up a lot of native files to the cloud, you never understand what sensitive info can be synchronised.
You can set 2-Step Verification optional or you can mandate for all users.
Users can also log in with their Employee IDs if it is enabled from the Admin Console.
9. CRM Integration
Gmail, Google Calendar, Google Contacts, Google Sheets and Google Drive can all be integrated with Salesforce and a variety of different CRM systems.
10. Single Sign-On To different Business Applications
User email addresses are often created using their G Suite credentials to sign on to cloud business applications like DocuSign, Marketo, Salesforce and Slack—without having to go into their usernames and passwords for these applications.
11. An Enterprise Branded Interface
Your company's emblem is often prominently displayed at the topmost right side of the screen inside all of G Suite accounts.
12. Support
With G Suite, there's 24/7 phone, email and chat client support. There's no support for consumer Gmail.
There are a variety of different reasons to evaluate G Suite, however, a number of them get a bit technical. Keeping in mind that you can simply forward your personal Gmail to your business account, that way, whether or not people send email to your "old" account or to your "new" business account, you can find all emails in your G Suite inbox.
If you wish to migrate the email from a Gmail account to a G Suite account, Google provides a service for that as well.