Use a Group as a Collaborative Inbox in G Suite
In any organization using a group as a collaborative inbox to distribute and track responsibility for topics is an easy way out. By Collaborative Inbox Assign an Issue, Resolve it, Manage Tags, Add and Remove tags from Topics and Filter out an Issue.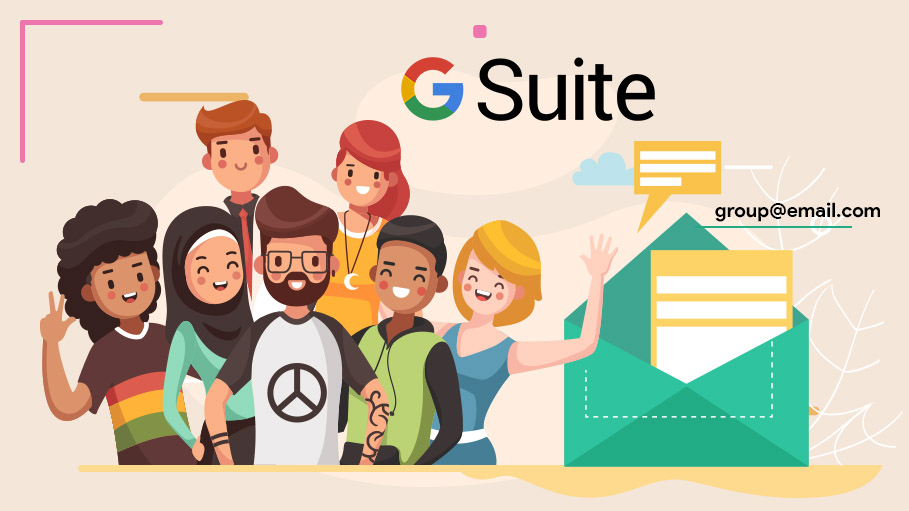 Similar to a shared mailbox in Exchange, a collaborative inbox is a subset of Google Groups that lets individuals claim (or assign to others) messages from a shared inbox. Collaborative inboxes are especially useful for technical support or customer service teams in any organization. For example, you could create a group with the email address helpdesk@yourdomain.com. You can then add your help desk employees as group members, and allow people outside your organization to send messages to the group to get support. Accordingly, the group member will receive a mail regarding the concern of their customers and take action against the issue:
Assign responsibilities for topics to group members

Mark topics as resolved

Edit tags associated with topics

Filter topics according to the Issue, status, or assignee
To create Group as a Collaborative Inbox:
Go to group: https://groups.google.com/

Click Create Group

Fill in the group's name, email address and description

Through Select a group type menu, select Collaborative Inbox

Specify any settings you want under Basic Permissions.

At the top, Click Create.
Add collaborative inbox features to an existing group:
Go to group: https://groups.google.com/

Click My Groups

Under the name of any group, Click Manage Group

On the left, Select Information > Advanced

Next, Select a Group Type and Select Collaborative Inbox

Select Options to Control Permissions(Optional)

Click Reset this Group
To assign an Issue:
To assign any responsibilities for a topic to yourself or another group member. Open the issue from the Topics view and do the following:
Click Take to Assign the topic to yourself.

Click Assign to Assign the issue to another group member. Search member's email address, who are in the group will appear in that dialog, then click Assign next to the member in the search results.
If a topic is assigned to anyone and they want to remove the assignment:
After Opening the topic, select Drop from the Actions drop-down menu.

Assign the topic to another group member (Optional).
To view topics that have been assigned to any particular person under the group, select Assigned to me from the Filters drop-down menu.
To resolve an Issue:
Resolving a topic indicates that the topic requires needed action. There are multiple ways to resolve a topic, depending upon the way it is resolved:
If an issue requires no action, click No action needed.

If a topic is resolved by a followup message, open the topic and click Mark as complete or mark as best answer on the followup message.

If an issue is a duplicate of a previous topic, click Set as duplicate. Specify the URL of the original topic.
Manage Tags:
Groups can organize their topics with different types of tags for different types of Issue. You can add up to 20 characters in a tag, and up to 14 tags in a topic.
To add tags to a topic:
Open the topic from the Topics view.

Click add tags.

To Specify one or more than one tags and click Save changes.
To remove tags from a topic:
Open the topic from the Topics view. The topic's tags are displayed next to the topic.

Click the X next to a tag to remove it from the topic.
To filter an Issue:
To filter out the topics currently displayed in the Topics view, click Filters. You can filter out topics by any combination of the following:
Topics without replies

Topics you've started

Topics you've replied to

Topics marked complete
When you have selected the filters you want, click on Apply selected filters at the bottom of the menu. To remove the filters you have applied, choose Filters > Clear all filters. You can also filter topics by tag. To do the following, switch to your group's Tags view and select the tag you want to view.

Get our hottest stories delivered to your inbox.
Sign up for Scrabbl Newsletters to get personalized updates on top stories and viral hits.