Introduction of Cloud Computing into Manufacturing Industry
As manufacturers face scaling pressure to optimize their workloads, even the most reluctant organizations are planning to upgrade their IT setup to cloud computing for easy scaling, integration of processes, data-loss prevention and on-demand delivery of data.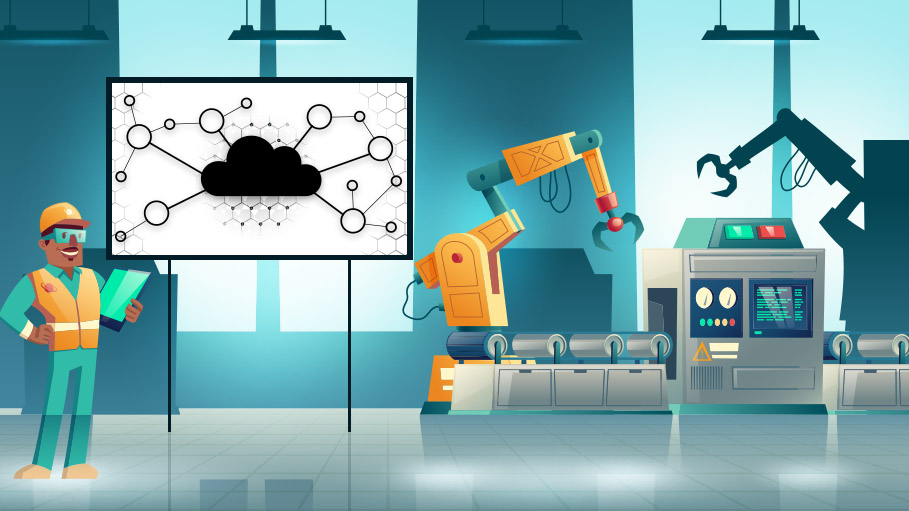 In today's world, the manufacturing industry has become one of the most profitable sectors. Earlier these industries used to and still have huge IT infrastructures to support continuously increasing business data and extensive workloads. Generally, Manufacturing industries don't pay attention to the IT upgrade and thus end up getting prone to disasters and data loss.
As manufacturers face scaling pressure to optimize their workloads, even the most reluctant organizations are left with little choice but to embrace digital transformation. One of the options open to manufacturers planning to upgrade their IT setup is cloud computing. But what is the cloud, and how will it benefit the manufacturers?
Easy Upscaling
For long term success in business, a company should take care of its workforce. So, migrating to cloud computing can free up valuable time that would otherwise be spent on manual processes and using it to work on higher-value tasks that would have a greater impact on the wider business. Cloud AI can automatically scale its infrastructure in accordance with the workload, so no physical up-gradation and more time can be utilized on the implementation of new strategies.
Efficiency and on-demand Delivery
Efficiency is all about achieving more with fewer resources in a timely manner, without compromising on quality. Effective implementation of cloud computing can connect all the outlets, factories and retail shops into one infrastructure so that single manufacturing system - hand, employees, suppliers, and partners can access one source for accurate and fast information. This ensures increased consistency as well as efficiency while serving customers and also maintains company records for traceability.
Energy Data Management and Minimising Cost
Generally, Manufacturing industries rely on heavy EDMS applications (ex. ERP, CRM, HRMS, SAP, etc.) hosted on huge IT on-premise infrastructure which takes a toll on the energy consumption by the servers or personal DataCentres. Cloud computing facilitates hosting of these applications, which in turn reduces the energy consumption, thereby spending less for the Data Management.
Predictive Analysis
By implementing cloud computing, manufacturers no longer simply collect data but instead, can derive actionable insights from it through analysis. Whether it is for sales forecasts, quality improvement or preventative maintenance or machine learning, cloud technology can give manufacturers an advantage over their competitors.
Disaster Recovery
Generally, Manufacturing companies stress a lot on Data Loss prevention and reduction of important customer's production data. Manufacturing units are more prone to disasters as less attention is given on the IT infrastructure up-gradation and modernisation. Thus Cloud infrastructure technology provides highly secure, intelligent, multi-regional availability of data for easy restoration and continuous workflow.
The Benefits of a Cloud-Based ERP System
Cloud computing is the way forward for manufacturers. Benefits include:
Quick access and availability of data from any location.

Ability to manage financials, field services, sales, operations and much more encapsulated into one platform.

Use of the global network of managed data centers.

Easy management and unique mechanisms needed to capture volumes of data
And, last but not least, access to powerful integrated solutions available for both financial and Operations.

Get our hottest stories delivered to your inbox.
Sign up for Scrabbl Newsletters to get personalized updates on top stories and viral hits.