Execute Projects Successfully with Microsoft Project
Microsoft project is a Project Management tool, which helps you to plan a project, assign tasks to resources, track the progress of tasks assigned, manage the budget, analyze workload, forecast pipeline, and much more.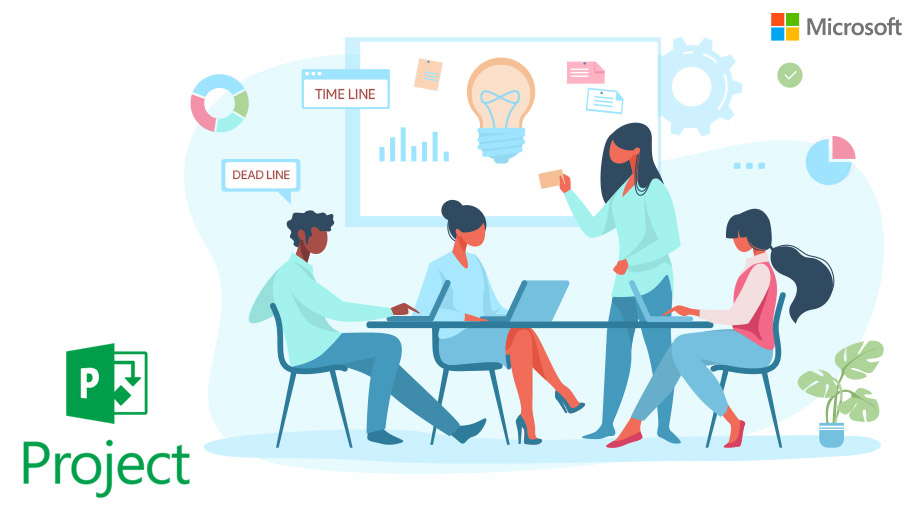 With technological reforms all over the workplace, people are focusing on more efficient ways of getting tasks done. Microsoft offers many applications which aid users to automate the work and task flow.
Microsoft Project is one of them.
It is very important to have proper planning for a project to be successful. A delay in one project might, in turn result in delay of others in the pipeline, throwing off multiple project management schedules. Hence for almost any company, project management is necessary for getting-and remaining-organized.
Microsoft Project is a project management software developed by Microsoft. It helps you to plan a project, assign tasks to resources, track the progress of tasks assigned, manage budget, improve collaborative work within the project teams, build charts /graphs, forecast pipeline and analyze/balance workload.
You can either opt for On-premise Solution or Cloud-based solution when you are purchasing Microsoft Project for your organisation.
There are three plans available in Cloud-based solution, namely Project Plan1, Project Plan 3 & Project Plan 5 and there are two plans in On-premise Solution, namely Project Standard 2019 and Project professional 2019.
Microsoft Project is not included in any of the Microsoft 365 plans packages, however you can purchase the standalone plan on your existing Microsoft 365 subscriptions.
You can create a new blank project from the Project panel, and within the project you can assign tasks to individuals with adding other details like start date, end date , % of completed task, and dependency of any task if there is any.The Individual assigned with the task will get a notification of task being assigned.
Microsoft Project enables you to plan your project efficiently, with certain parameters enabled which help you to get your project completed within a certain time and keep track of the proceedings.
Few of the list advantages of having Microsoft Project for your organization-
You can have a proper track of the tasks assigned to a particular resource.

With setting up a deadline for your project, you can make sure no one misses out the timeline and hence the project can be completed within planned time.

Though resources may be working from different geographical locations, in spite of this they will feel connected while working together on a project through Microsoft Project.

Each resource can be assigned multiple tasks and each task can be assigned multiple resources.

Web Access allows users to access the Project Server database across the Internet. It also includes timesheets, graphical analysis of resource workloads and administrative tools.